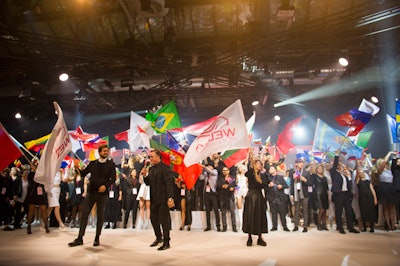 A fitting tribute in the year of their 135th anniversary, Wella returned home to Germany for this year's Wella TrendVision extravaganza – the highlight of the hairdressing calendar. The event, which took place in Berlin on Sunday, November 22nd, attracted over 1,400 hairdressers from all around the world, looking to celebrate their incredible industry and Wella's undisputed place at the very heart of it.
 
Opening the show at Berlin's impressive STATION-Berlin – a building steeped in history and one of the most extraordinary locations in Europe – Wella Executive Vice President, Sylvie Moreau, paid homage to Wella's rich heritage and dedication to the future of our industry:
 
"As we celebrate our 135 years of rich heritage and groundbreaking innovation, we are looking forward to our exciting future. In the Wella Family we are dedicated to nurturing millions of talented and passionate hairdressers around the world and this is why we are here today."
This year, 69 competitors traveled to Berlin from 37 countries – all winners from the local National TrendVision Awards, chosen to represent their countries out of 5,000 applicants. They each prepared a creative masterpiece to showcase their skills in their specific field: Young Talent or Color Vision.
 
Each category included four awards – the Platinum, Gold, Silver and Bronze awards – and also recognized the 'People's Choice', an additional honor bestowed on the finalist receiving the most votes from the LIVE online audience. The online audience watched the competition from all around the world, with an incredible 25,000 votes received in the People's Choice awards.
 
The Young Talent category was judged by a panel of experts including Wella Professionals Global Creative Director for Care and Styling, Eugene Souleiman. The finalists in this category were challenged to create their own editorial interpretation of one of Wella's 2015 trends, SS15's Distilled collection or AW15's Uncharted Territories, originally revealed at last year's TrendVision event.
 
Young Talent Winners:
·         Young Talent PLATINUM: Anastasia Krupovich, Kirpimo Meistrai, Lithuania
·         Young Talent GOLD: Mikaela Edwards, Runway, New Zealand
·         Young Talent SILVER: Zoe Huang, Zoom Hairdressing, Taiwan
·         Young Talent BRONZE: Sonya Rättö, Prof Tampere, Finland
·         Young Talent PEOPLE'S CHOICE: Calogero Castellana, Mimì Hair Fashion, Italy
 
 
The Color Vision category – lead by head judge and Wella Professionals Global Creative Director for Color, Josh Wood – was just as hotly contested as the competitors were eager to show off their skills and technique in their interpretation of 2015's trends and Wella's premium color ethos. Entrants were challenged to create a luxurious color result which is beautifully styled to give their models the perfect look. After much deliberation, the winners were announced:
Color Vision Winners:
 
·         Color Vision PLATINUM: Craig Clark, HOB Salons, United Kingdom
·         Color Vision GOLD: Patcharee Apirom, MOGA, Thailand
·         Color Vision SILVER: Guiping Zhang, Tiffany Salon, China
·         Color Vision BRONZE: James Fang, Headline, Taiwan
·         Color Vision PEOPLE'S CHOICE: Alina Iulia Calin, AYO Salon, Romania
 

The ITVAs weren't the only honors bestowed at this year's TrendVision. In its 135th year, Wella also recognized just a few of the dedicated professionals who have helped elevate the hairdressing industry around the world. One such award went to Eva Graham, Founder of NIOXIN who was honored with the Wella Life Achievement Award. The celebration continued with the "Wella Family" Recognition Awards, honors for some of Wella's longest standing and most committed partners who were acknowledged for their talent and support of the industry. The first award was for Dolores Kondrashova, President of the Russian Hairdressing Union, founder of one of the most prestigious salons in Russia, the No.1 private academy and Russia's most important hairdressing magazine. She was recognized for her services to elevating the hairdressing industry in Russia. The second award recognized Jesus de la Calle from Spain, a partner of Wella since 1979 who now has ten salons in Spain. Also recognized was Inger Ellen Nicolaisen of Raise salons – an incredibly successful chain of 130 salons and seven schools across Norway and Sweden. The fourth award was for Walter Cabral from Brazil, in honor of his 35 year partnership with Wella. Next up being recognized for unrivalled dedication and support to the Wella family for more than 40 years were Paul and Marie Gaglioti. Looking to Japan and forty four year Wella partner, Yoshinori Shima was recognized for his work developing young talent in Japan and his forward thinking 'hair fashion' trend leadership in the industry. The next award recognized Michael Gerrard from England as he enters semi-retirement after a 44 year partnership with Wella. Regular fashion show and editorial session stylist with six salons and a successful Hair Fashion Club which has 160 affiliates in Italy, James Longagnani was awarded for his dedication to the industry. The final award honors a partnership with one of the premier families in hairdressing which has spanned over 90 years. Klaus Peter Ochs is a world championship hairdresser, creative visionary and global President of the world's largest hairdressing association, Intercoiffure Mondiale, a role that he has held for fifteen years.
 
After celebrating the "Wella Family" Recognition Awards, Sylvie Moreau said: "This year's TrendVision, which celebrates Wella's 135th anniversary, is the perfect time to celebrate the community, talent and unbreakable bonds between the Wella family."