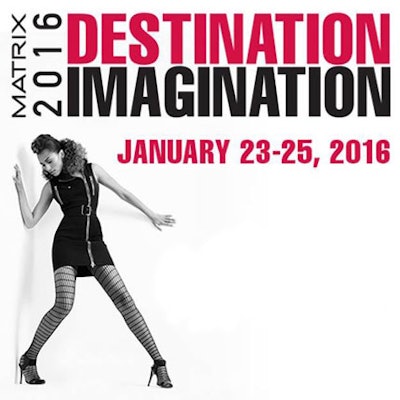 Matrix Destination 2016, an exciting, 3-day, educational event held in Orlando, FL, is coming up January 23-25. The fun and informative event will feature an array of industry icons and educators, including:
HANDS-ON: Progressive Cutting with Daniel Roldan, Paul Falltrick and Tarra Dean - Elevate your skills and build confidence behind the chair. Learn advanced cutting techniques using MATRIX CRAFT Methodology.
HANDS-ON: From Dreams to Reality with Nick French, Michael Albor and Cori Randall - Start your creative styling engines by taking a journey from the fundamentals to Avant Garde styling, seen through the eye of the camera lens.

Additional classes include:
HANDS-ON: Color Outside the Lines with Gina Khan, Robert Santana, Steve Waldman and Leah Sterk
LOOK AND LEARN: Men's Street Style with Franco Della Grazia, Tara Koenig and Marcus Shamin
LOOK AND LEARN: Kaleidoscope with Danielle Keasling, Nick Stenson and Lenny Strand
LOOK AND LEARN: Matrix 2016 Trend with Chrystofer Benson and Dan Csicsai
LOOK AND LEARN: Creating Celebrity Color & Style with George Papanikolas and Tabatha Coffey
LOOK AND LEARN: Get Down To Business with Tabatha Coffey
and more!
Don't miss out! Register for Matrix Destination 2016 at http://www.mymatrixfamily.com/education/matrix-destination!

[Image courtesy of 24 Seven Inc.]