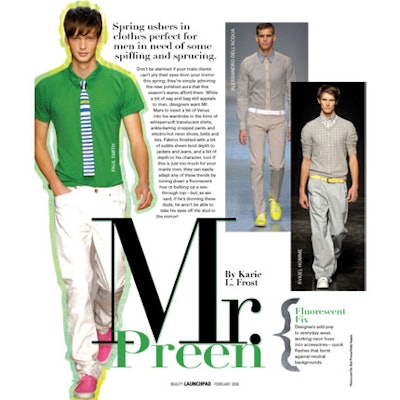 Spring ushers in clothes perfect for men in need of some spiffing and sprucing.
View PDF version here »
 
Don't be alarmed if your male clients can't pry their eyes from your mirror this spring; they're simply admiring the new polished aura that this season's wares afford them. While a bit of sag and bag still appeals to men, designers want Mr. Mars to inject a bit of Venus into his wardrobe in the form of whisper-soft translucent shirts, ankle-baring cropped pants and electro-hot neon shoes, belts and ties. Fabrics finished with a bit of subtle sheen lend depth to jackets and jeans, and a bit of depth to his character, too! If this is just too much for your manly men, they can easily adapt any of these trends by toning down a fluorescent hue or bulking up a see-through top—but, as we said, if he's donning these duds, he won't be able to take his eyes off the stud in the mirror!