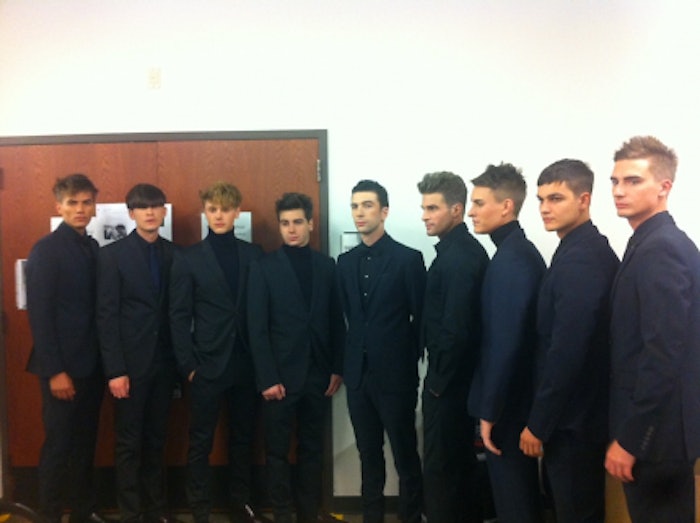 It may have been cold outside in Denver, but the men's hair styles and trends on display at American Crew's Opening Night made for one hot night! Opening Night is the year's biggest celebration of men's hairstyling, and it hosted American Crew's 2012 Face Off, the ultimate men's hairstyling competition.
Patrick Chai, a stylist at Floyd's 99 Barbershop in Los Angeles, captured Face Off's first place honors. The former engineer turned photographer turned barber/stylist cut, styled and photographed his winning entry, which he says he created to be "modern and current for young professionals but with a little bit of an edge." Chai and the two runners up also created winning looks for a segment of the men's style runway show.
Chai wins an amazing prize package, including $3,000 cash, a one-year stylist contract with the Wilhelmina Artists "W Artist" division, a finalist plaque and professional poster featuring the winning photo, and be feted at a celebratory awards dinner. In addition, as the U.S. representative, Chai will compete against the Face Off winners from seven other countries—Australia, Canada, Ireland, Mexico, Peru, Spain and the United Kingdom—during a photo shoot in January 2013 in Los Angeles. The winner of the global Face Off will receive backstage access to the 2013 global American Crew show in Europe, a spread in American Crew's 2013 Style Selection and a full set of American Crew's Men's Corner furniture collection.
First runner up Josiah Maglinti, who created his interpretation of 50 Shades of Grey's Christian Grey, takes home $2,000. Second runner up, American Crew All-Star Sarah Adams was awarded $1,000. Adams was inspired by a undulating pile of rope, which she saw as "charming and yet a little immoral."
"Tonight, we restored one of the grand traditions of American Crew—our Opening Night Celebration, which has not taken place since 2008," says Marty Flaherty, senior vice president of business development for Colomer Beauty Brands USA. "To enhance the program, we began a new tradition—announcing the U.S. winner of American Crew's Face Off, a global men's cutting/styling competition. The energy, creativity and excitement generated by the competitors from all over the country, as well as the almost 500 attendees at Opening Night, gave American Crew a new surge in our mission, which is to constantly raise the bar on technical excellence in men's grooming and the male salon client experience."
Opening Night also showcased a men's runway show featuring styles created by the Face Off finalists, the debut of the 2013 American Crew Collection, "Crewcial," The American Crew All-Stars' interpretation of the well-groomed man, education on men's grooming for 2013 and an after party.
"Walking confidently in life, the American Crew man is forever attentive to the statement he presents to the world," said Craig Hanson, American Crew's creative director. "Tonight, we are celebrating him as his station in life is personified the American Crew way—with a killer haircut and a bit of cleverness."
[pagebreak]
Crewcial, American Crew's 2013 collection, blurs the line between classic and trend. Duality is the statement with each of the three looks featuring two distinctively different finishes. The three looks include:
Baxter, the longest haircut in the collection—and American Crew's updated version of the bowl cut. Baxter can be worn in the classic, smooth finish using American Crew's Boost Cream or switched up to flaunt the natural texture with the new American Crew Alternator.
Hugo, the medium-length haircut, features a bold square shape that achieves gravity-defying hold with American Crew's Defining Paste and a Mason Pearson brush to offer a natural finish. Hugo's elegant, off-the-face look is mastered with a comb and the ultimate holding power of American Crew Superglue to provide that stay put, high shine finish.
Sam, the shortest of the Crewcial collection, masters duality with a single application of Alternator, the new reshapable spray product from American Crew. Worn down or pushed back, the look can be changed in an instant without another application of product needed. It's great for guys who can't make up their mind!
"Our American Crew Alternator, which launches in April 2013, will change how men think about styling products," says Brian Herf, marketing director for Colomer Beauty Brands USA. "This polymer-based, flexible hold styling spray is the first product that allows a man to apply it once in the morning and create multiple looks throughout the day—without continuously adding more products.  It provides men the confidence they need to go throughout the day, knowing that this product will take care of their styling needs."
Adds Herf, "American Crew also will continue to strengthen our relationship with stylists and barbers in 2013 via an updated educational platform, which features a career path from recruit to All-Star for the stylist or barber to become an expert in men's cutting and styling. The program will include online education, hands-on technical training and a certification process that allows stylists and barbers to show that American Crew has qualified them as experts in men's haircutting and styling techniques."
Finally, Opening Night marked the debut of the American Crew Stylist App, which is designed to enhance the relationship between the barbers/stylists and their male clients by sharing styling tips, new product recommendations and a style portfolio of the newest looks a man might want to try during his next haircut.
"As the leader in the men's hair care and styling category, we're delighted to be able to share men's styling tips and new looks, including our new 2013 Crewcial Collection, which has received rave reviews around the globe, with thousands of stylists, barbers and men via our new American Crew Stylist App," said Flaherty. "We want them to know they can turn to American Crew for all of their grooming needs—and we're making that easier than ever."
Opening Night sponsors included Men's Health, Pernod Ricard, Wilhelmina Denver and Goldyn.
Related:  Celebrity Hair Styles: Timeless Styles for Men  |  Fashion TRENDS: Men's Styles Fall 2012  |  NAHA Adds New Men's Category and Expands Make-Up Artist Entry Rules for 2013  |  Hair Styles HOW TO: Makeover: Men's Roy & Trae by Diadema  |  WATCH: From Bricklayer to Barber: Valor Men's Grooming  |  Hair Styles STEP BY STEP: Makeover: Men's Rafael & Jacob by Diadema