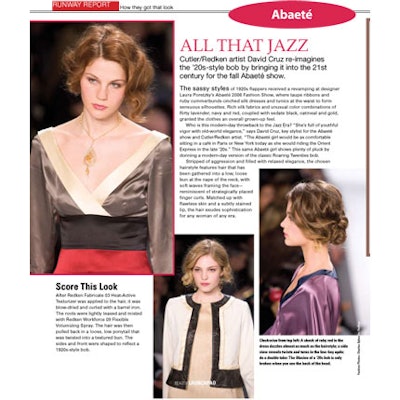 Cutler/Redken artist David Cruz re-imagines  the '20s-style bob by bringing it into the 21st century for the fall Abaeté show.
Designer: Abaeté
Products: Redken
The sassy styles of 1920s flappers received a revamping at designer Laura Poretzky's Abaeté 2006 Fashion Show, where taupe ribbons and ruby cummerbunds cinched silk dresses and tunics at the waist to form sensuous silhouettes. Rich silk fabrics and unusual color combinations of flirty lavender, navy and red, coupled with sedate black, oatmeal and gold, granted the clothes an overall grown-up feel.
Who is this modern-day throwback to the Jazz Era? "She's full of youthful vigor with old-world elegance," says David Cruz, key stylist for the Abaeté show and Cutler/Redken artist. "The Abaeté girl would be as comfortable sitting in a café in Paris or New York today as she would riding the Orient Express in the late '20s."
This same Abaeté girl shows plenty of pluck by donning a modern-day version of the classic Roaring Twenties bob. Stripped of aggression and filled with relaxed elegance, the chosen hairstyle features hair that has been gathered into a low, loose bun at the nape of the neck, with soft waves framing the face—reminiscent of strategically placed finger curls. Matched up with flawless skin and a subtly stained lip, the hair exudes sophistication for any woman of any era.
Score This Look
After Redken Fabricate 03 Heat-Active Texturizer was applied to the hair, it was blow-dried and curled with a barrel iron. The roots were lightly teased and misted with Redken Workforce 09 Flexible Volumizing Spray. The hair was then pulled back in a loose, low ponytail that was twisted into a textured bun. The sides and front were shaped to reflect a 1920s-style bob.