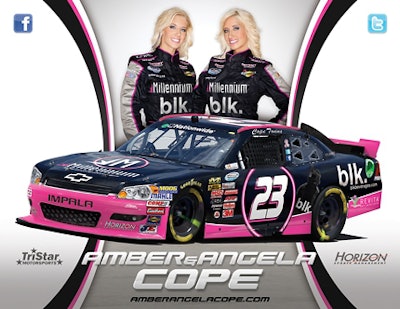 Millennium Salon Software launched their Be-Cause initiative earlier this year to demonstrate their commitment to giving back to the beauty industry. Their latest project involves sponsoring twin sisters who are hairstylists and NASCAR drivers! It is extremely unique for a software company to be involved with NASCAR, but Millennium Salon Software's support for the beauty industry reaches no boundaries.
---
The story starts with 2 twin hairstylists, Angela & Amber Cope, and how they recently made history when they became the first twins to ever race in a NASCAR Nationwide Series in May. The nieces of Daytona 500 winner, Derrike Cope, are already well on their way to achieving their ultimate goal of becoming the best female drivers in NASCAR; they just need one thing… a sponsor.

The Cope Twins were lacking a major sponsor for the next race at Kansas Speedway and if they didn't race in Kansas City that would mean they couldn't race in Charlotte, due to NASCAR's approval process. That outcome would be a severe setback. That is where Millennium Salon Software comes in. When Millennium Founder and CEO John Harms heard about the girls and their need for a sponsor he immediately jumped at the opportunity. The ability to help two beauty professionals achieve a unique dream encompasses everything The Millennium Be-Cause represents.


"I am excited about the opportunity to support Angela and Amber Cope as they race towards their dreams in the NASCAR Nationwide Series. Not only are they professional race car drivers but they are beauty industry professionals that have used Millennium Software for many years! The Cope Twins share the values, passion, and drive that have consistently earned Millennium Software top honors in this amazing industry," says Millennium Founder, John Harms. As of this Monday, Millennium became Angela and Amber's official sponsor for at least their next race in Kansas City and the following race in Charlotte. The sponsorship gives them the best opportunity to compete and win.

Amber and Angela became the third generation of Cope's to enter into the world of racing at the age of nine. At the age of 15, they progressed to late model race cars even before they had their license to drive. In 2000, a very short time after their debut in late model stock cars they instantly acquired national attention when they were featured on Bryant Gumble "Good Morning Today."

Today, at 28 years of age, the girls are making it on their own, using the knowledge and experience they acquired with their Uncle. 2011 is shaping up to be the most important year of their lives with four important races to go in Kansas City, Charlotte, Miami, and Phoenix. If they are successful through the next four races they will have a great chance at racing Daytona next year and take one step closer to fulfilling their dream.

Join the Millennium team in rooting for the Cope Twins on October 8, 2011. Qualifying will be shown on ESPN2 at 10:00 am EST and the race will also be shown on ESPN2 at 3:00PM EST. Tune in and support fellow stylists go for their dreams in the Millennium #23 car.
Images courtesy of Millennium by Harms Software Inc.
Related:  WATCH: Harms Salon/Spa Management Software @ Premiere Orlando  | 
---
Read Launchpad, the magazine for hair salon professionals, in our digital edition • Get the latest on professional beauty products • Post your hairstyles in our Users' Style Galleries • Read The Colorist, the magazine for professional haircolorists, in our digital edition (bimonthly Jan/Feb 2012) thecoloristmag.com • Subscribe to Launchpad—print, digital or both • Subscribe to The Colorist—print, digital or both
---