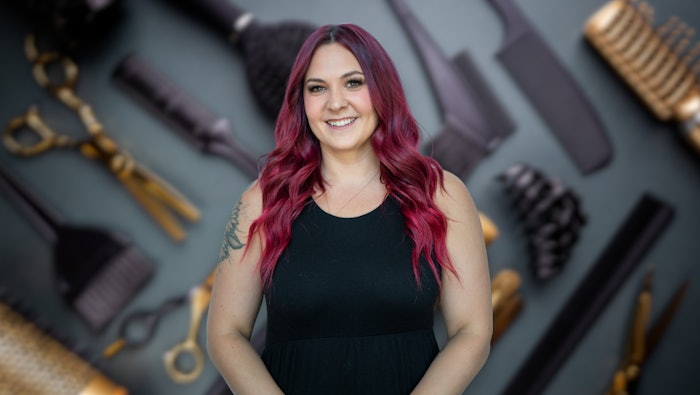 Courtesy of Nicole Wehry
Today, you will get to know Nicole Wehry (@shearelegance_bynicole). She is a vivid artist at Blank Canvas Salon in Londonderry, NH.
Q&A:
Beauty Launchpad (BLP): What is a fun fact about you?
Nicole Wehry (NW): I play roller derby in my free time! 
BLP: How did you get your start in the industry? 
NW: I had been a vet tech for about 12 years and had been seeing my now friend Rosey for my hair. She suggested that I go to cosmetology school and was confident that I would love it. So four years ago, with the help and support from my husband, I quit my career and started a whole new journey! 
BLP: What is your current favorite hairstyle trend? 
NW: I'm loving how much creative color is showing up all over, from office jobs to nurses and beyond. Whether it's a peekaboo color or an all over rainbow, I can't get enough. 
BLP: What is a tip you have for your fellow stylists who are looking to grow their following on socials? 
NW: Post as often as you can (without burning yourself out). Consistency is key! 
BLP: What is a piece of advice about styling/working with hair that you have for your fellow stylists?
NW: Find a hair salon that is full of supportive and inspiring artists. It truly does make a world of difference when the environment you create is one that you are comfortable and happy in. Having people to support and push you is priceless and can lead you to succeed in everything you do. 
BLP: What do you love about your work? 
NW: I absolutely love creative color. If I could fill the world with colorful hair, I would. We all have a unicorn on the inside waiting to be set free! 
BLP: What inspires your work? 
NW: Learning from other amazing artists. I think we all inspire each other at different times. 
BLP: What motivates you about the industry? 
NW: I think the fact that there is no ceiling in this industry. It's what keeps me motivated to push myself and try to step outside of my comfort zone. 
BLP: What is a career goal you have for yourself? 
NW: I would love to specialize in not only vivids but also extensions. I would maybe even like to teach a class one day. 
You can learn more about each of our winners in our September/October 2023 digital magazine.