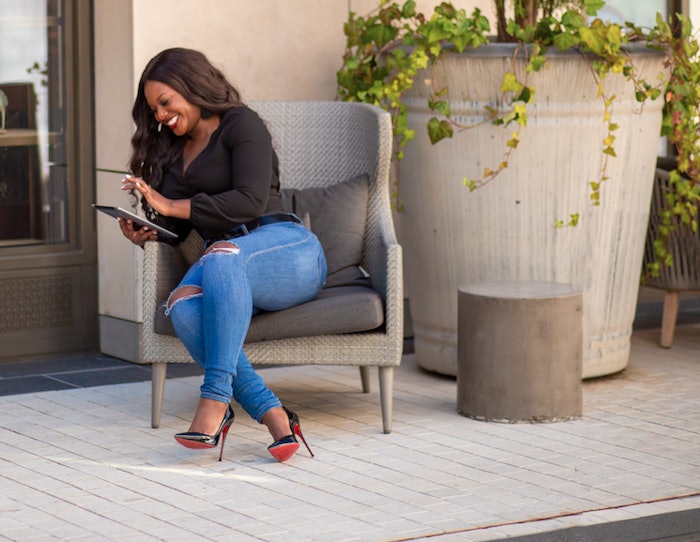 For the salon professional, there's an app for just about everything these days! There are apps that book your appointments for you, apps that help manage your finances and even apps that help you to select the best hair color for your client.
Although this influx of apps may seem daunting to owners who aren't super tech savvy, most are easy to download and have very simple tutorials. Take just a few minutes to research what these apps have to offer and what makes the most sense to integrate into your overall business practice.
With a few clicks here and there, you will quickly realize how just one or two apps may reduce your stress level and help your business to run smoother.
Here are two examples of apps that will help your business run more successfully in different ways. One will streamline your overall business practice, allowing you to focus on your craft. The other allows for an incredible audio experience in your salon that will help to create the most comfortable and pleasing appointment for your clients.
SQUARE APPOINTMENTS
Square Appointments is an excellent choice for those who want a simple way to allow clients to book, cancel or reschedule appointments online. This app virtually eliminates the need to return phone calls or remind clients of upcoming appointments. It also reduces the possibility of double booking and large schedule gaps.
The Square Appointments app allows for multiple employees and calendars and has a built-in payment processing system with the Square card reader. It allows you to set your own custom hours and blocks off personal time. It also creates automated text and/or email reminders. You can allow clients to pay in advance and charge automatic cancellation fees. Lastly, Square Appointments allows for Google and Instagram integration which will help keep your business cohesive and better organized.
The only real negative is that you are locked into Square's pricing for payment processing, which is about 2.6% + $.10 for individuals on the free plan and 2.5% + $.10 for teams of 2-10. Overall, I feel the benefits of Square Appointments far outweigh the costs. A free 30-day trial allows for a commitment free experience. After the trial, you can assess whether it's worth the $50-$90 per month for 2 or more employees.
SONOS
Sonos is one of my favorite apps, and my employees love it too! Sonos is the leader in home/studio audio and allows salons to stream an incredibly large library of music, podcasts and audiobooks. Salons can stream everything from Spotify, Pandora and Tidal, to Audible and SiriusXM. The sound system also includes very high-quality speakers.
I had a Sonos sound system installed years back, and it truly is a joy. If you like, you can have each of your staff download the app on their phone, and they can each have a chance to operate the sound system. I find it a good way to support and empower my stylist-renters.
Square Appointments and Sonos are two of my favorite apps, however, there are literally hundreds to choose from. Take the time to learn which apps would help your business and do your best to keep abreast of the latest in technology. There are apps like Facebook, Instagram and LinkedIn that have already become essential for everyday business, and there will be more. The internet provides endless sources for information on apps and how they can help to support your business. Make it a month-end task to spend a lunch hour researching the latest in professional business apps. Learning keeps your mind young and your business growing.