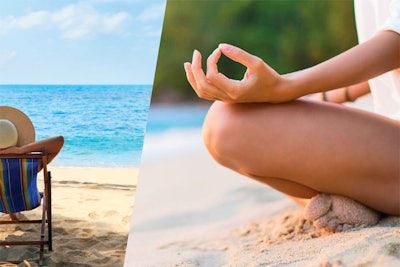 Stylists know what it's like to multitask. Between servicing clients, interacting with coworkers, keeping pace with bosses' requests plus salon demands, maintaining professional social media pages and attempting to sneak in a bite of lunch, days spent doing hair can feel frenetic. But burnout is inevitable when stylists don't incorporate precious downtime into their hectic schedules. Perhaps the point isn't to inhale that salad in the free three minutes between appointments, but rather to find a way to rethink the organization of a day and achieve a more balanced state of being—both at the salon and away from it. Work-life harmony is not a myth: Our pros provide tips on how to attain it.
Setting Boundaries
"Stylists should set boundaries around guest communications, scheduling and what they're willing to do for clients," says Gina Bianca, Joico global salon business expert and owner of e Network Salon in Plantsville, Connecticut. Start by creating—and sticking to—a concrete schedule. When requests come for work performed outside those hours, practice saying "no." It might initially feel awkward, but hairdressers shouldn't strive to please customers who don't appreciate their value.
"Immediately setting standards in a new relationship is likewise key, because it's harder to go backward," says Ash Fortis, owner of XO Hair Lab in Chesapeake, Virginia. But don't panic if that didn't happen—it's never too late to brave a boundaries conversation. "If you're feeling burned out, exhausted or taken advantage of by a client, coworker or boss, then it's time to tackle the talk," says Jamie Dana, owner of Pin and Plait Studio in Lake Forest, California.
Taking Time Off
Taking regular time off isn't a luxury, but rather a necessity. "Stylists stand up most of the day, so the job is physically taxing, and it's likewise mentally and emotionally draining as we take on the role of therapist—for which most of us haven't trained!" exclaims Dana. Coming early, staying late and sacrificing weekends is a sure path to collapse. "Make no mistake, grit and self-discipline are prerequisites for success," says Fortis. But hard work must go hand in hand with proper rest. Total work hours vary from person to person and job to job, but Bianca recommends averaging 120 hours (give or take) on the books each month. Aim for two days off per week, plus longer one- or two-week chunks of refresh time taken consecutively every year. And every so often, treat yourself to a long weekend. "Use that third day to go out of town or enjoy a staycation," says Dana. "Lock it in your calendar like you would any other appointment, so it's clearly set."
Give clients early notice about upcoming away-days to prevent stress later. "Encourage clients to prebook appointments and share fun plans on social media to help further spread the word," suggests Dana. Guests shouldn't have to scramble to reschedule because you're taking a vacation. "If that happens, you didn't plan far enough ahead," explains Bianca.
Using Work Time Wisely
For all the lively ambience and jovial interactions, a salon is still a workplace. "Stay present while you're there, and be intentional with every client," urges Fortis. Opportunities to do good work abound, even when you're not actively busy behind the chair. "Clean out your station, organize client cards, catch up on paperwork, take product or salon photos, write captions for Instagram Stories, practice updos on a mannequin, bring in a model to test a different style or take photos using new poses, angles or spots in the salon," says Dana. The options for productivity are nearly endless. Breakroom time should be approached with caution, and should be utilized primarily for scheduled lunch or snack breaks.
Maximizing Time Away From Work
Burnout doesn't happen just by putting in too many working hours; it also occurs when stylists don't unplug. "We constantly answer messages from clients, then stay up all night curating social media content and getting lost on our devices," says Fortis. To combat that fatigue, start by getting organized. "Set up a single booking system, preferably via email, so you don't have texts hitting your personal phone at midnight on a Sunday," says Dana. A short and sweet vacation reply lets guests know when you'll next be in touch. If using social media for business, designate specific times to post or answer messages, then exit the platform. Bianca suggests exercise and meditation as tools for staying in peak shape. "And make time for things that make you happy, like family, friends, hobbies or simply being alone," Fortis encourages.
Golden Rules
Industry leaders share their insights on achieving work-life balance.
"As a mother of two boys, I struggled to juggle home and work life in the early days of Grande Cosmetics. Pick your priorities. You can't make it to every game, and that's understandable, but be there for the monumental events so you won't have regrets." —Alicia Grande, founder and CEO, Grande Cosmetics
"I schedule personal time, self-care and social events directly into my agenda. Once it's written there, I honor it." —Linda Gillette Parodi, founder and CEO, PARODI Professional Care
"Set financial goals and be clear on how much you need to earn to achieve the life you want. Then create a strategic plan, taking on as many clients as needed and charging them accordingly to attain that goal." —Stacey Ciceron, brand ambassador, Oribe
"Family first! Obtain family function dates as far in advance as possible, and place them in your calendar with a commitment to attend." —Wayne Grund, founder and CEO, Surface
"We have the best job in the world. Set your own schedule, have fun doing what you like, always be on time and never cancel on clients." —Ani Gafafyan, regional educator, Trissola
"I'm not sure that life is ever perfectly in balance— maybe that's why it's a crazy, wonderful, up-and- down journey. I tend to be a workaholic, but I love what I do, and I actually feel out of balance when I have too much free time on my hands." —Beth Bewley, cofounder and CEO, Eufora
"Getting plenty of sleep and eating healthy are great factors to feeling strong and client-ready. Food is fuel, so pick whole foods that nourish, rather than quick-energy sugars and fats." —Mary Wilson, CEO, Wilson Collective
"I make it a priority to hit the gym whenever possible, since I spend so much time traveling. It's the best stress reliever." —Kevin Hughes, artistic director, Moroccanoil
"Focus on what's truly important to you. Be OK saying 'no' graciously when you need to be present somewhere else." —Rebecca Hiele, international artist, Goldwell
"Be deliberate and mindful with every action and decision you make by first taking a moment to think about your future self and ask, 'How do I want to remember this?' It will change what you do, how you do it, what you say and, most importantly, how you remember it tomorrow." —Tom Porter, founder and president, Malibu C Professional
[Images: iStockphoto]