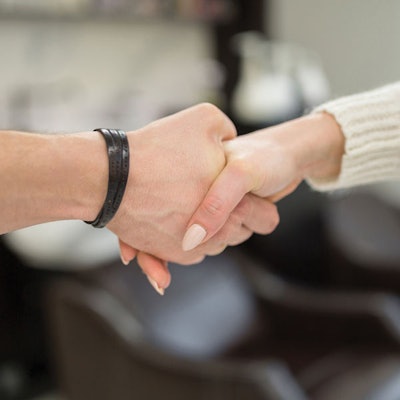 Here's how to make the recruiting process work for you so you can start scouting your newest staff members, stress-free. 
A salon is only as strong as its styling team. Bringing in new stylists allows for a fresh perspective on the floor, reinforces a collaborative work environment and helps build a client base. To successfully integrate the right stylists into your salon family, Ronit Enos, business strategist and performance coach, shares that you should be spending an allotted amount of time each week on hiring. "We usually recruit when something happens. It's a reactive task, but in reality, we should always be mindful and proactive about it so we can control the process," says Enos. Here, she shares advice on hiring your dream team.
Plan and Budget
The main question to consider when recruiting new staff is how much you can afford to spend on the process; this will inform how many people you can recruit (and how quickly) without risking your business financially. According to Enos, you should have three months' worth of expenses (think: prospective hire's hourly wage plus your time invested training plus tax each month) saved up to comfortably employ new talent. is includes wage payment as well as training-time expenses.
RELATED: Master Class - Advanced Hair and Cosmetology Education
Ultimately, onboarding isn't cheap, but it's worth it because of the stylists you attract. "If you want to be noticed, you need to make noise so new talent will notice you—and that's an investment," says Enos. "Allocate money each month toward marketing to new hires and development." 
Identify the Ideal Candidate Profile
Before hiring, you should be sure of who you want on your team. Think about your best-case scenario hires and consider all variables, including their ideal energy level, whether they would work full- or part-time, their skill set, and even small personality details, like if they're morning people. Enos recommends creating a vision board outlining your ideal recruits and a career blueprint of how they would be able to grow through your business platform— including their earning potential. "You need to know who is the best match for you and your environment," says Enos, who shares that identifying what you don't like in a candidate is as important as what you do.
RELATED: Barbers Share Top Tips for Opening and Running a Successful Shop
Systemize the Interview Process and Training
After you've successfully hired, automate the process to save time going forward. "Teach the system to a manager or associate so you can free up your time and work on other projects," Enos advises. Don't be afraid to delegate: "When you become a leader in your company, you don't need to do everything," she reassures. Not only do you benefit from this organization, but you also create a strong first impression for potential candidates by demonstrating a clear handle on workflow. "When there's a systematic process, everyone feels confident, guided and supported," she explains.
Be Clear About Responsibilities and Expectations
Training can also be automated without being hands-off. A learning tool, such as a video, can help manage the expectations of new staff while relaying the same message to multiple people (at various intervals) in a fun and memorable way. In addition to using videos for onboarding, Enos advocates videos for technical training. Whether you use a specific platform (Enos suggests Loom or Zoom), record with your phone or outsource completely, the results are the same. "When you're clear about expectations, fewer mistakes are made and your employees are more efficient," shares Enos. "They understand your culture and how to embrace it—and then they thrive."
Track Your Success
After you have gone through the process, take a step back to determine how it worked out, taking time to analyze your successes and struggles. "It's crucial to have a good understanding of the results to measure success and improve," says Enos. "Evaluate the performance of your team and your systems, ask for feedback from clients and employees, observe these changes, adjust, and relaunch." An effective recruitment strategy is as successful as your ability to source candidates, so cast a wide net, whether you turn to schools, social media or salon-targeted platforms such as Canvas Recruit, where salon owners can connect to stylists through their portfolios.
Ultimately, your staff represents you and ideally functions more like partners than employees, which is why it's important to have a plan and be selective when proactively hiring. "Think of it like Match.com," says Enos. "A good marriage starts with knowing what the best match is in terms of the social, the personal and even the professional—it's all necessary to lay the groundwork."
[Image: Bigstock]