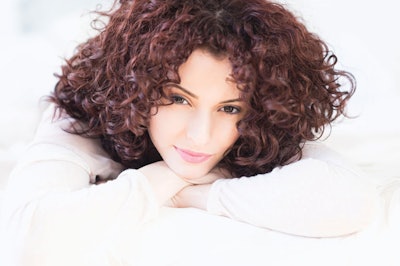 Rocking a head full of ringlets herself, Paula Peralta, brand ambassador for John Paul Mitchell Systems (JPMS), knows a thing or two about curls—not only as owner of Los Angeles' Salon Mix, but as a self-proclaimed curly hair guru. Here, she shares her top tips on identifying curl types and adding a bouncy boost via savvy cutting and styling techniques.
1) Identifying Curl Characteristics 
Problem: Not all curls are created equal.
Solution: Curl pattern determines how the hair behaves, both wet and dry. Most hair types fall under either curly (more of a ringlet formation) or extra curly/coily, which can be very compact ringlets or a zigzag pattern. However, all curly hair tends to lack moisture, so major moisturizing treatments are typically a must.
2) Single Out Styling Superheroes
Problem: One head of hair can host multiple textures and formations.
Solution: Determine the hair's natural texture and formation when it's wet. During consultation, ask your guest what products she's had styling success with—generally, she's aware of her multiple textures and has some idea of what works for her. en, make recommendations on what could further simplify her maintenance/styling routines.
RELATED: Tips, Techniques and Products for Caring for Curly Hair
3) Cutting for Shrinkage
Problem: Shrinkage is real—and one of the most important factors to consider when working with curly hair. You can cut less than a half-inch and see several inches of shrinkage as a result! Extra-curly or coily hair will have substantial shrinkage from wet to dry states, which becomes especially important when cutting.
Solution: Much like test strands for color, Peralta often does a test strand during a haircut to see how hair responds to length removal. is helps her create a game plan for the cut that ensures the client will be happy with the finished shape and overall end result.
The Shape of Things
When determining curl shapes and patterns, industry leaders have worked to simplify classification. LaDonna Dryer, JPMS business development manager and natural texture expert, points to the letter/number hair-typing system developed by celeb stylist (and Oprah's mane man!) Andre Walker. "Hair is classified by a number, which defines the formation (1-straight; 2-wavy; 3-curly; 4-coily/extra curly) and a letter which defines texture (A-fine; B-medium; C-coarse)," Dryer informs. "The resulting combination helps identify the needs of that specific hair type and find solutions based on the desired end result."
RELATED: How to Keep Curly Hair from Spiraling Out of Control
Then, she adds, there's the LOIS classification, in which the pattern resembles the letter:
L may bend and curl with little to no curve.
O resembles a spiral.
I is mostly flat, with no distinct curve.
S describes wavy lines, with "hills and valleys." "However one identifies her hair type, that will affect everything: how it's cut, colored (different shapes reflect light differently), and how it's cared for," Dryer says. When determining a true curl pattern, start at the base; here, locks are likely least damaged (color-treating, blow-drying or ironing can alter the curl over time). "Advise your client to try several months without lightening or heat to allow new growth to come in; when the hair is very wet, you'll see a different pattern at the base than mid-shafts to ends, so you can determine her true curl pattern," Dryer advises. "Or, without chemical changes or strong heat damage, one can assess the entire strand to determine the pattern—but it's not uncommon for more than one type and formation to live on one head of hair."
This story first appeared in the June issue of Beauty Launchpad magazine. To receive the magazine, click here to subscribe.
[Images: Getty Images]