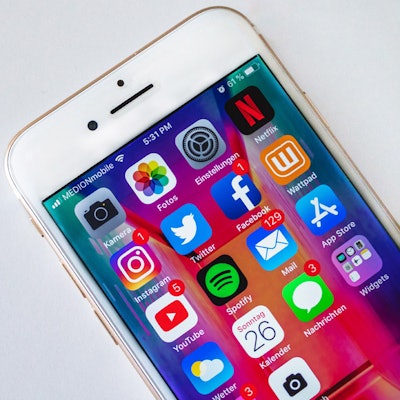 Not all instagram content is created equal. in this three-part series, we'll help you ensure that your hard work is reaching the audience you want. this month we share tips on how your work can be shared on feature accounts—including ours.
So you want to be reposted? We hear you! With so much amazing talent out there it's impossible to share it all. However, we've uncovered some tried and true ways—creating engaging content and engaging with others' pages, to name a few—that help set your work apart from the crowd and maybe—just maybe—get reposted on pages like @beautylaunchpad.
RELATED: Instagram Tips on How You Can Attract a Brand's Attention
Tag Properly. Put simply: It's virtually impossible for your work to be seen if you're not tagging. First, tag your photos with the handles of the pages that you want to connect with—this makes it easier for the page to see your work. Additionally, make sure you're hashtagging the brands in your post. Most reposting sites list hashtags they want you to use in their bio; ours is #beautylaunchpad. An insider tip: Tagging a page in your Instagram Stories is a surefire way for your work to be seen. This doesn't guarantee your work will be shared, but certainly ups your visibility.
Engage with the page. If you want your work to be shared, it isn't enough to simply slide into a page's DMs and say you want a repost—especially if you've never engaged with the page before. (In fact, it's actually a big turn off.) What do we mean by engage? Double-tap and comment on the content that the account shares. At @beautylaunchpad, we read every comment and respond to insightful or funny responses. The more we see your handle through engaging with our content, the more likely we are to remember you and check out your work. You can also vote in feature accounts' polls in Stories, give them a shout-out when you see them go live, or simply share their posts on your own page, either in your main feed or in Stories. Not only does engaging with an account help you to stand out, but it also increases your own page's engagement. It's a win-win!
RELATED: Instagram Tips for Creating Content to Attract Clients
Make sure your work is up to snuff. Competition is fierce. Hairstylists continually up their Instagram game, investing in great cameras, taking courses on lighting and practicing for hours on how to style hair for the perfect shot. Now, that isn't to say you can't take a great photo using your phone in the corner of your salon. But keep in mind that feature pages are looking for images that not only demonstrate your hairdressing abilities, but are also high quality and unique. The best way to figure out what a reposting page is looking for is to study what it has already reposted.
Set yourself apart in your post. Another way to resonate with a wider audience: Detail how you achieved a look—and maybe even discuss the challenges you overcame while trying to create it. We at @beautylaunchpad are constantly looking for insightful content to share, whether it's educational or inspirational. Of course we repost pretty pictures, but we also look for deep, meaningful posts that elevate everyone in the industry and inspire others to keep working hard and believing in themselves.
This story first appeared in the June issue of Beauty Launchpad magazine. To receive the magazine, click here to subscribe.