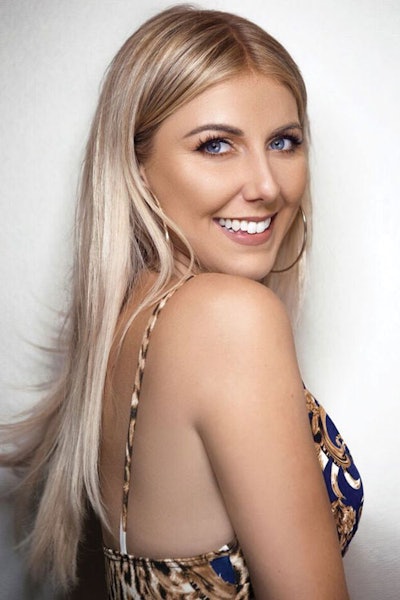 Cosmoprof artistic team member Olivia Smalley has mastered social media as a means to share coloring tips and blonding techniques with others. Here, she answers your queries about social media, building relationships with brands and more.
Do you prefer using white, black or no background? —@sam.scissorhands
I'm a big fan of white backgrounds with some dimension because if you go to any major media outlet and look to see what images they're reposting, it's usually those with clean, white backgrounds.
How do I create enough content to post consistently as a part-time hairstylist? —@jenmorenobeauty
At the beginning I was spending so much money marketing myself with flyers, business cards and banners. I asked myself, "How do I work smarter with my hands and not my pocketbook?" Collaboration! Ask models to film with you [for trade]. This is a part of marketing that can be free.
RELATED: Top Predictions and Techniques for Summer Music Festival-goers
How do I get noticed by brands? I've tried tagging them and sharing my formulas, but I hear nothing! —@hairartistrybyamberandrews
Create a list of every single brand that you want to work with this year. Don't ask for a repost; instead, make sure you're loyal to whomever is on your list. That means: Comment on the brand's page and direct message it to help build a relationship with whomever is on the other side of that social media channel.
What works in terms of getting the most engagement? —@jasmin_changeswc
Videos. I've grown 31,000 followers since November and it's because of posting videos. My three rules for engagement in any social media forum are to be entertaining, educating and /or inspiring. Also, your context—which is your captions—has to be extremely engaging as well. To make sure my captions are engaging, I tell stories, share formulas and ask questions.
How did you become so successful doing something that you're passionate about? —@brittneyyyt
There's a sign hanging above my bed that reads "Rise to the challenge," and that is how I live my life. I love what I do, but this isn't a magic show where I just tell you to be passionate in order to succeed because that isn't the case. Specifically, every six months I write down on my notepad what I want to achieve and I reevaluate what I want. Then, I put in the work.
RELATED: Genius Strategies for Gaining Engagement From Your Social Posts
What advice would you give to your younger self and to someone who's just starting out in the hair industry? —@lukemyershairdressing
Research like crazy. There is so much free information on YouTube, Instagram and Beauty Launchpad. Don't feel pressure to work at a salon or rent out a space immediately after graduating. Go out and assist and take in as much information as possible. Don't feel like you need to do it all right now.
How is it that you remain so humble with all this popularity? —@ricardojarahair
We're in the service industry. We're here to serve, not to be served. I have embedded in my mind that it's not about me; rather, it's about how I can help my clients and others by sharing useful information.
Want your burning question answered? Follow Beauty Launchpad on IG for the next opportunity!
This story first appeared in the April issue of Beauty Launchpad magazine. To receive the magazine, click here to subscribe.
[Images: Daryna Barykina]