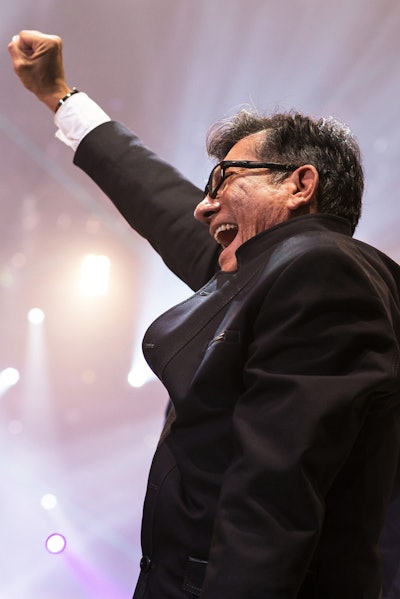 Boy, has our industry changed in the past 10 years! The world is moving towards an experience economy as consumers are starting to place more value on experiences rather than possessions. It's a move away from materialism and instead to things that bring joy. It celebrates what we do rather than what we buy. This information revolution is fueled by personal computers, video games, the Internet and cell phones… which have changed the way we produce, consume, communicate and think.
We're lucky, because the hair and beauty industry is in a position to benefit from this economic shift, because no matter how advanced technology gets, people will always want that personal connection that a business, like a salon, gives.
In order to embrace this new world, we need to look at the salon experience and figure out how we can wow guests with everything we do. What's great about this, is that (if you do it well) people will be willing to pay a lot more for the experience, and do more to spread the word about your business. Stylists have an incredible opportunity to capitalize on this type of market because; every service we provide comes with an experience…you just have to make sure it's a good one.
Creating An Experience at the Salon
In 2019, find new ways to add value to the salon experience. I'm sure you've heard me talk about videotaping tutorials with your client's phone so they leave with a personal blow dry tutorial. And grabbing a mannequin to teach clients tips/tricks when there is downtime.  And, I'm sure you've check out my Instagram for ideas. Continue to evolve these concepts. As a hairdresser, you are a teacher, so teach your guests!  There's no value in the back room!
Salon retail is another way to add value. Amazon has redefined the way people shop and their expectations of availability, so you have to embrace that. Clients are simply looking for the best price and the most convenient method of access. Most don't read into their purchasing; so don't be afraid to educate them. Andrew Carruthers (our education director) would be very honest with his guests and share the fact that the profits from salon retail sales would pay for the education and benefits of the stylists in the salon. Guests were usually surprised by this and more willing to make a purchase to contribute to something bigger, an experience!
I think it would be great to create an experience package that includes services requested, massage at shampoo bowl and all products used. Yes, all products used, so the guest automatically leaves with everything from the experience. If I were a manufacturer, I would create 4 oz bottles to support this experience to make it more cost affordable for both the stylist and guest. The 4 oz size creates an opportunity to fall in love with a product, in hopes of a larger future purchase.
I also think an interactive retail area is a great way to create an experience. I love Redken Powder Grip 03 and place it in a bowl and then throw all my hairpins in, so when I pull a hairpin out it has more tack/grip and will slip or slide out. Try it - place a bowl on the retail shelf with the product and pins and watch and listen to clients' interactions as they begin to experience!
Whether you add a complimentary treatment at the bowl, teach a personalized styling technique, upgrade your booking system, renovate your salon or simply take the extra time to make your guests feel more comfortable and catered to, find something, anything, to add value to your services in 2019.  Trust me, it will translate to success for you.
Education for the Stylist
Now, let's talk about education. Have you been to a hair show or academy lately? Stylists around the world are taking their education out of academies and into their home environment to cherry pick relevant content that they can learn on their own time and terms.  Allow me to clarify that I am also a huge supporter of online learning; there are advantages and disadvantages to both online and in-person training.
As a learner, I have always enjoyed going to trade shows, academies or any live education event, because at any given time I can ask a question. When watching online, in most cases, you can't ask a question and get an immediate response. Another thing I like about trade shows is the face-to-face interaction with other hairdressers; it's a great networking opportunity. So many educators have touched my heart and guided my hands, the computer can guide my hands, it can't touch my heart or create a sense of enthusiasm that a live event can. Think about watching Bruce Springsteen's live concert on TV—it's just not the same as being there.
The bread and butter of our industry is education. Make an effort to attend live education in 2019!
One thing is absolutely certain: the world is changing, and we at Sam Villa want continued success for you. So, if the changes around you feel unfair and they seem to be creating challenges in your business, use that as fuel to grow. With some creativity, disruption can create opportunity. The difference is how you perceive that disruption and what you're willing to do to succeed!
Wishing you continued success in 2019!
Sam