The fall/winter 2018 catwalks showcased a wide range of looks, from elaborate updos featuring intricate braids at Naeem Khan to deconstructed waves as seen at Emporio Armani. Many styles were heavily informed by our past, with a display of hair designs ranging from the 1920s pin curls at Erdem, to the 1940s victory roll at Au Jour Le Jour and Antonio Marras, as well as a voluminous 1950s Jackie O-inspired bouffant at Moschino. Read on to discover all of the season's hottest hair trends, along with expert commentary and styling tips so you can recreate these looks for your clients.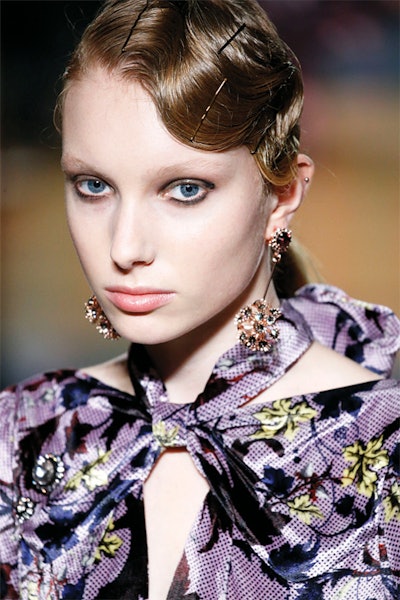 Roaring Twenties: Finger waves are back to lend a modern edge to the vintage vixen look.
The models on the Erdem runway were transformed into the women of the 1920s who had broken free of the confines of traditional femininity. One way they flaunted their freedom? Through a "boyish" bob haircut, which became a statement style for many women. "This look is very reminiscent of the finger-waved front with a flat crown and low chignon from the flapper girl period," explains Sexy Hair international master artist Dawn Atkinson. "As the finger wave has transcended, we are seeing styles elevated by combining waves with sleek ponytails for a modern take on a vintage style. Adding subtle accents like bobby pins to hold waves in place gives the eye an added point of interest, lending the style a whimsical appeal." To lend a sleek and shiny "wet look" approach to this trend, Atkinson suggests using pliable pomade on wet hair to create the ultimate finger waves (along with an optional polished ponytail). For a softer and more natural finish, she recommends styling with a thermal protecting spray and styling iron to create lasting curls.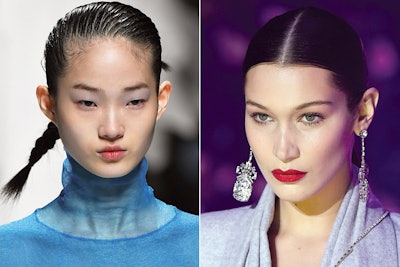 Sleek and Chic: A variety of slicked-back styles are all the rage.
PHOTOS: The Rogue Artistry Team Interprets the Powerful Women in Today's World
As Bella Hadid demonstrated at Brandon Maxwell, a slicked back ponytail with a strong middle part can be a simple yet glamorous 'do. At Jil Sander, hair was pulled back into tight, intricate braids that were suspended to the side. The styles at Roberto Cavalli emphasized wet- look elevation at the roots accompanied by raw, wild texture through the lengths—emulating one that has been caught in the rain or gone for a quick dip in the ocean. "Slicked back looks instantly transform the hair's silhoutte," says Gary Baker, creative director for UNITE. "Sometimes it's to convey the transition from the beach or pool to a bar or club in the story of the clothing and the model." Baker recommends applying hairspray in a layering technique for a dry satin look, then applying finishing wax to flat-wrapped, dried hair to show a glossy "perspiration-inspired" feel. For a glossy, wet finish, mist an extra-strong hairspray straight over the top to create a shellac that will not crack.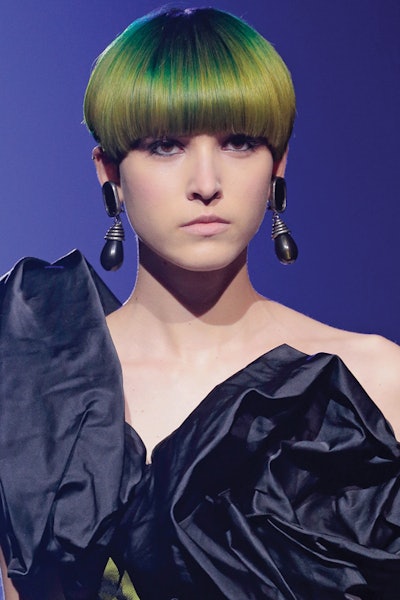 Intergalactic Colors: Ramp up the Hair drama with '80s-inspired technique hues.
Paying homage to '80s club kids, the bright shades at Marc Jacobs were reminiscent of neon strobe lighting at a nightclub. Models flaunted a variety of looks, from shiny stripes in their hair to just the undersides dyed green, fuchsia or plum—all of the hair colors were inspired by the fabrics in the clothing collection. "Mermaids and unicorns step aside, there's a new girl in town!" declares Tarah Edberg, Keracolor educator and brand coordinator. "The galactic hair trend is sure to make heads turn. Bold, cosmic hues bursting from dark roots are inspired by the supernovas of deep space. Color melts featuring everything from emeralds and teals to purples and pinks, and even neon yellow, stand out from the crowd and really let the wearer's personality shine. Whether your client has long, tousled tresses or crisp, disconnected lines, this style is one that can walk right off the runway and into your life." Adds Missy Peterson, global education and artistic director for Malibu C, "Galaxy hair is so hot right now—clients are coveting a trend that is all about creativity and fluidity."
PHOTOS: Ziggy Stardust Becomes a Source of Inspiration for Chung-Yang Su's Collection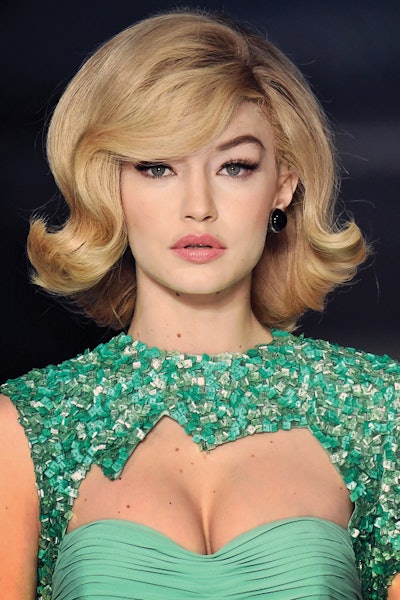 Bouncy Bouffants: This voluminous coif is the epitome of 1960s chic.
Models at Moschino donned wigs inspired by former First Lady Jackie O's signature bouffant, but this look can easily translate to everyday hair. "Some runway hairstyles could never make it onto the inspo boards of your modern career woman, but this look certainly makes the cut," remarks Naeemah LaFond, amika global artistic director. "This bouffant is everything a good bouncy blowout on a short bob is made of! Keep it wearable by skipping the teasing brush, and instead opt for a volumizing powder spray to get that iconic dramatic height. For a touch of Jackie O nostalgia, finish with hairspray to keep this 'do living up to its perfect form but without the helmet head."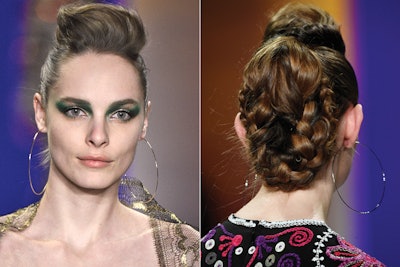 Pomp and Circumstance: This high and mighty style adds just the right amount of elegance.
RELATED: ​NYFW Runway Rundown - ECRU at Flying Solo Spring 2019
"Three aesthetic elements that contribute to ideal formal styles are shape, balance and texture," notes Aquage educator Becky Marinich. "The shape of this style feels like a classic, rockabilly-inspired formal mohawk. The sides are sleekly drawn back to cleanly accentuate the volume at the front hairline and the detailed chignon at the lower nape. The balance of this shape leads the eye in a diagonal line from the lower nape straight up through the front hairline. If there are too many areas of extreme volume or detail work, there is no clean balance to the design. And the texture created by the plaits provides the perfect degree of contrast and detail without overpowering the style."
Adds Kim West, Matrix artistic educator, "Braids have been trending for a few years now; however, the style of plaits are constantly evolving. This is such an interchangeable style that can be worn for a night out on the town or enhanced into a bridal look!" When prepping the hair, West recommends blow-drying with a root lifter and volume builder first to give hair the foundation it needs to braid and twist. She also suggest using an elastic and securing two bobby pins on it, then once hair is gathered, insert one of the bobby pins and wrap the elastic around the ponytail and insert the other bobby pin to create a smoother and more secure style. "Whenever braiding, I always apply product on the back of my hand—that way it's easily accessible to polish and define the individual strands," West advises.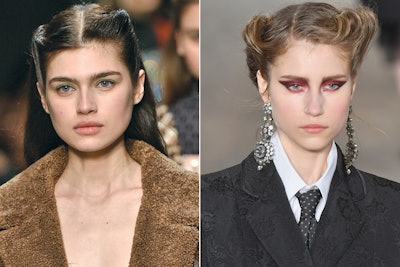 "V" is for Victory: This contemporary rendition of the classic pinup style makes a comeback.
The backstage stylists at Antonio Marras and Au Jour Le Jour clearly took a page out of their history textbooks by channeling the classic victory roll—but with a twist. "You can't help but get a '40s victory roll vibe from these soft rolls," points out Sarah Lund, style.master at Kevin.Murphy. "Classic, swept-up hair is having such a huge moment in fashion right now due to the resurgence of big, bold jewelry and statement clothing. The soft, wispy edges of this updo keep the look contemporary while pairing perfectly with the structured masculine clothing, all very reminiscent of post-war '40s styling. The hair needs to remain soft and undone to appear current—we are always looking to a nod to an era without being an exact replica." Lund advises pulling and twisting the hair up and away from the face to complement cheekbones. Once pinned into place, she suggests using a dry finishing spray to give a soft hold while maintaining the wispy airiness for the perfect finish.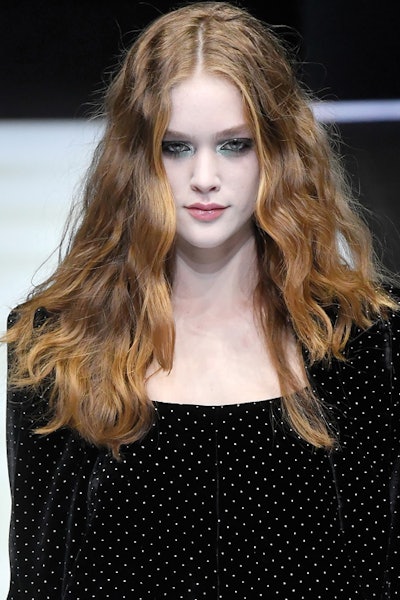 Rocker Chic: Wavy tresses are a timeless style that never go out of fashion.
"Deconstructed waves offer a very relaxed feel," says Sean James, FHI Heat artistic director. "They can be created by using a 1 -inch barrel curling iron, where you release the hair after wrapping it around the barrel for about four or five seconds. Once the hair has been curled, shake ringlets out with a blowdryer to relax the waves so that they're not too curly."
Remarks Kevin Hughes, Moroccanoil artistic director, "I think that deconstructed waves are so popular because they impart this edgy, modern vibe and are an appealing look for any occasion. Leave the ends a bit straighter—the waves aren't supposed to be perfect; the more uneven they are, the better. To create an effortless-looking, tousled effect, I use a dry texture spray to bestow more grit."
Larisa Love, Joico brand ambassador, also recommends, "Use a dry styling product to enhance texture and get that very natural- seeming 'cool girl' look without having to put in too much effort."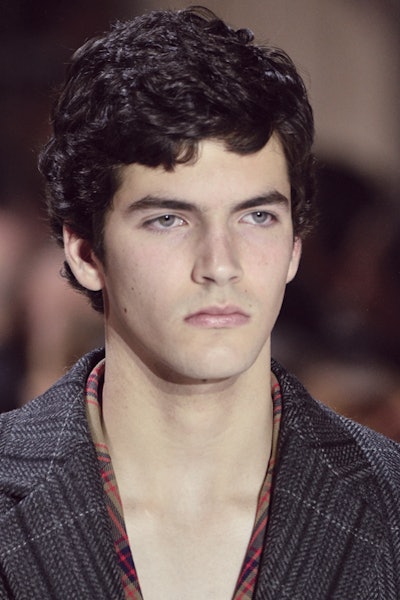 Making Waves: Enhance his natural texture for a carefree feel.
For the low maintenance client who has curly or wavy hair, the less work he has to put in to style his 'do, the better. At Calvin Klein, models donned looks that embraced their hair's natural texture. "Long or short, it's about working with the texture your client has and allowing for a softer, more carefree feel," says Mirza Batanovic, Eufora style director. "Simplify your client's routine with a conditioning spray to moisturize and provide anti-frizz benefits, especially if he has curly or kinky hair. Use a grooming cream to help soften curls and reduce frizz while adding lightweight hold and natural-looking shine. They key is to work with his hair's wave or texture pattern. Don't fight the cowlicks—let them guide your style."
[Images: Getty Images]