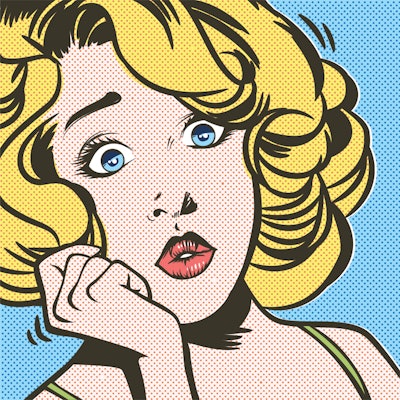 Feeling overwhelmed, stuck in a rut or just plain confused? No matter where you are in your lashing career, you're not alone: Everyone encounters challenges in the workplace. We've isolated obstacles that novices and experienced lashers endure and asked pros-in-the-know to help solve them. Read on for their advice; it may be the spark that pushes you past your career slump!
Novice Concerns
You're in the beginning of your career; everything's new and exciting. And yet, you're not growing your business the way you pictured. Why? It may be one or all of these valid concerns.
1) "I don't know how to price my services."
First, do your research. "Look at the demographics of your area and what others are charging for similar services," says Diane Lytle, master lasher and founder of TheLashChick in Wasilla, Alaska. "You want to remain competitive, but keep in mind the level of client you're trying to attract," adds Brittany O'Rourke, Lash Affair trainer and owner of Brow + Arrow Beauty Co. in Escondido, California. From there, factor in your training, products used, skill level and experience. "Once you add in your costs (products, rent, insurance, etc.), you'll have a better idea of what you can financially offer," O'Rourke says. Of course, if you've pursued additional specialized training, you can consider raising your prices 5- to 10-percent, according to Lytle. "It's normal for most businesses to gently raise their prices every so often to reflect depreciations and costs of doing business. Have a reasonable starting price and give at least 30 days notice to clients when increasing your prices," she says.
RELATED: How to Correctly Answer Tough Eyelash Questions From Clients
2) "I feel like I'm doing good work, but I'm having a hard time retaining clients."
Unfortunately, client turnover happens, but until you pinpoint the reason behind the breakup, you may never solve the issue. According to Tara Walsh, lashing coach and creator of The Lashpreneur in Santee, California, the top three reasons clients don't return boil down to being unhappy with the service results, never intending to come back in the first place (due to discount shopping via a Groupon-type deal) and not having a great experience. How do you fix this issue? Request client feedback. "[This] is important to improving your quality of work as well as letting clients know you care about them," says Lytle. Walsh recommends instating a client feedback policy that allows a 72-hour window after appointments where clients can alert you to any issues. "If you can fix the issue, offer to for free in that 72-hour window," she says. After that, the fix must be paid in full.
3) "I don't have the money to keep switching lash and adhesive brands. How do I find ones I'll love?"
There's no way around it: Finding the perfect match takes trial and error. Start by putting in the research. Seek out companies that offer what Maxwell calls "the whole package," which includes extensive product lines (think: adhesives for a myriad of environments and both Classic and Volume lashes), education and product support. "Look for companies that check all the boxes and carry variety so that they have what you need even when your needs change," she says. If you feel overwhelmed with the choices, Lytle suggests scouring online product reviews from other lash artists to see what resonates with them. When possible attend a trade show where you can ask manufacturer representatives questions and demo the products. "Plus, at trade shows you can get your hands on a variety of products at a discount," reasons Walsh.
4) "I want to offer Volume lashes, but creating fans is super hard."
Every pro concedes that Volume lashing takes time to master, and it all comes down to practice. "Remember, lashing is artistry and artistry takes time to develop," explains Kim Jaynes, founder of Borboleta Beauty in Salt Lake City. Practice during your downtime between clients. "Those fine motors skills are built through repetition," notes O'Rourke, adding, "The more you practice, the quicker you can execute fans and the more consistent they'll become." Soo-Jin Yang, CEO and founder of Illumino Lashes in Oakland, California, advises breaking down the process. "Try creating 2D fans instead of 3D fans in the beginning. Take baby steps; don't jump right into Mega Volume until you've mastered attaching the two lashes to one natural lash," she says.
5) "It's taking me forever to do a lash set; I feel like I'm losing money."
According to Walsh, you can pick up speed in three ways: Cutting down on excessive fluffing (it's an unnecessary habit that can suck 10 to 12 minutes from your service), stopping any chatter (which decreases eye flutter and keeps you focused) and mapping out your application on the eye pad (which helps shave off a few seconds per natural lash). If your speed still suffers, Kristen Maxwell, Lash Affair educator and owner of Indulge Studio in Detroit, recommends running timing drills in your downtime. "Find a model or work on a practice strip," she says.
RELATED: How to Deal With Dry Eye Syndrome and What it Means for Lash Extensions
Veteran Concerns
You've been in the game for a while, so your business should be flourishing—right? Not so fast: Even pros come across stumbling blocks in their careers. Whether you're feeling uninspired or averse to social media, the following suggestions could boost you back up where you belong: at the top.
6) "Admittedly, I feel a bit complacent. How do I get excited about my artistry again?"
First, figure out why you feel too comfortable or beaten down. "Are you overworked or burnt out? You may be taking too many clients, not allowing yourself breaks and practicing poor self care," says O'Rourke. Pencil in a much- needed vacation or schedule weekly massages to give your mind and body a rest. Feeling uninspired? Walsh suggests reigniting your passion for lash artistry by signing up for lash courses focused on eye styling or current techniques that you can convert into new services and—yes—increased profits. Even the simple act of sitting down with a peer and talking lashes can provide that extra boost, says Yang. "Attend lash conferences, take new lash classes and get lash extensions from a really great lash artist and share stories," she suggests.
7) "I'm not sure how often I should be investing in continuing education, and I don't even know where to look."
Just because you've been lashing for years doesn't mean you can't learn more. Lytle puts it succinctly: "Never think you know everything, because you don't." At the very least, staying on top of what's new in terms of techniques, trends and products will give you an edge on the competition and allow you to raise your prices. "Plan on attending at least one training certification a year, and attend workshops and conferences as often as you can," Lytle says, adding, "Your educational trainings are a business write-off for taxes as well, so keep track of those expenses!"
Not sure where to find reputable continuing education? "If you love a company's products and are having great results in the salon, then take the advanced classes it offers," suggests Michelle Mirizio, NovaLash trainer in West Palm Beach, Florida. She advises seeking out the brand's one-on-one classes for more focused guidance. Or, turn to your peer network in online forums like Facebook. "See what classes everyone else is talking about: Who had great experiences and who didn't?" says Maxwell. "These insights will lead you to the next innovator in the industry and get you a seat in the right class."
8) "I'm not really into using social media for my work. Do I have to?"
"You don't have to do anything in your business. ... But you'd be a fool not to use social media to market your services," says Walsh. Why? "Social media is
the fastest and most effective way to reach a wider audience," says Andrea Mcquade, NovaLash brand ambassador and owner of Andrea's Beauty Box in Kilmarnock, Scotland. Want proof? Walsh lists these stats: The average Facebook user checks her feed 14 times a day. Instagram users over the age of 25 are on the platform more than 24 minutes a day. "Your target clients are on social media, so that means your business should be, too," she says.
Not to mention, it's free advertising for your business. "I tell myself that it's cheaper than paying for Yelp ads or giving out discounts on Groupon!" laughs Yang. Though posting one-to- three times daily is ideal to keep followers engaged and increase visibility, Maxwell says you don't need to invest a ton of time to maintain a basic presence. "Posting one to two times per week can vastly increase your exposure and is necessary for growth these days. Plus, there are scheduling apps like Planoly that remind you when to post," she says. Make sure you "establish your brand and stick to it across all channels (Facebook, Instagram, Snapchat, etc.)," says Jaynes, adding that an authentic yet professional voice plus high- quality clear and clean images will help sell your services to potential clients.
[Image: Getty Images]