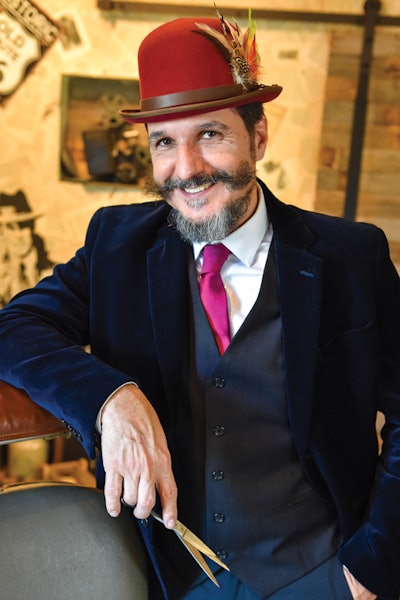 The cofounder of 18.21 Man Made reveals his inspiration, his vision for the future of men's grooming and why he loves hairspray.
When 18.21 Man Made was launched in 2014, did you ever anticipate the level of response your brand would receive?
Yes that was our hope! We took a year to come up with the formulas, which were brand new and different from everyone else. We came up with unique packaging that tells our story. We knew our Sweet Tobacco Sprits could be a hit, yet we didn't know it was going to be so popular! When we designed the product line my partners and I looked at it from everyone's perspective. Collectively we had diverse backgrounds and I had been a former salon owner, distributor and hairstylist. That helped start the conversation for the salon owner. We wanted to give pride of ownership and it was important that hairstylists and salon owners understood they had an opportunity to create new money and bring in more male clients.
What role does education have with 18.21?
Education is a huge part of our company. What gets me going every morning is asking how I can improve the lives of the stylists and owners, so they can love what they do and earn a better living. Education is the only way to do that. A lot of people can cut hair; we teach our clients how to build their business and how to retail. When your clients buy products, they are happier with their results and more loyal.
We consider that education is 80 percent of the potential success of our brand going forward.
RELATED: Reinvent Your Barbershop's Retail Space
Why were you so enamored with the Prohibition era? How did you think stylists and clients would react to it?
We knew it was out of the norm! We knew people would be interested and we wanted something cool for men. We wanted to create something unique that starts a conversation. It harkens back to the look and style of the 1920s, and since we are about to hit the 2020s, it's also a celebration of 100 years of American history.
Do you foresee the men's grooming market continuing to grow?
Men are different and it has taken time to evolve the market. We foresee that men will begin using more hair care and skincare products. They are taking care of their hair and beards and are more interested in grooming. It is a big opportunity for salons to take the torch and do a transition. They can offer more for men who want additional services than just standard barber offerings. It is an easy transition to provide other services like waxing, facial care and nail care. Whoever can figure out how to make a space for men in their business will benefit.
RELATED: Readers Choice Awards 2017 - Men's Products
What is next for the company?
We are elevating the men's grooming experience and showing how men can be better served. While it has been mostly hair care, we are moving into skincare, shaving and continuing the evolution of services for men. We'll keep bringing more education to our clients and growing our market in the U.S. and Europe while working to expand and reach more people.
Where do you get inspiration from?
I like to attend professional events in the industry, especially business related. I like to watch and read something every day related to new technologies. I see other companies bringing innovation to their markets and I think of how we can bring some of that genius into our company and industry.
If you weren't a hairstylist, what would you be?
I would be an architect. Architecture strongly influenced my way of cutting hair and I even created my own concept called The Construction. It was established from the architectural community with a lot of inspiration coming from the Bauhaus movement.
What one styling product could you not live without?
Hairspray! I can do anything with hairspray and can style anyone's hair with just that one product.
What is your proudest achievement?
Having trained many people who are now successful. Many are now top stylists, own their own salons or their own product lines. On the personal side, my proudest achievements are my wife and children, and all the daily things in life.
[Images: Courtesy of 18.21 Man Made]