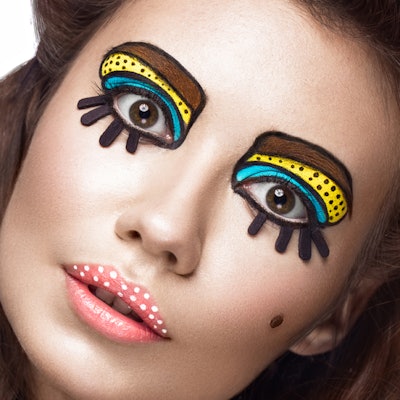 Fantasy Lash looks tell a story—top to bottom. Creating them can be one of the most fun experiences, but also one of the most challenging. Follow these three tips to master the art form.
Know the Rules - You may have already mapped out your design, but before you buy all of your supplies, be sure to read all requirements for your chosen contest before you begin. Fantasy Lash contests typically have a specific theme or requirements for hair, makeup and costume that you must follow in order to place.
RELATED: Photo-Sharing Best Practices for Lash Artists
Dress Up Every Last Lash - This may seem like a no- brainer, but make sure to embellish not only the face, but also the lashes themselves. Add glitter, droplets, color—whatever you think best completes your overall look.
RELATED: Marketing Tips to Help Your Salon During the Holidays
Hire a Professional Photographer - If the competition is photo-based and not in-person, you'll need high-quality images. A professional photographer can help translate your look. Seek pros who have proper lighting and backdrops or who are willing to go on location and are competent at capturing natural light. Don't forget to ask for clear up-close (macro) shots of the lashes as well as artistic pulled-back editorial shots. —Leah Lynch, owner, Beautique Salon & Spa, Newburyport, Massachussetts
​
[Image: Getty Images]