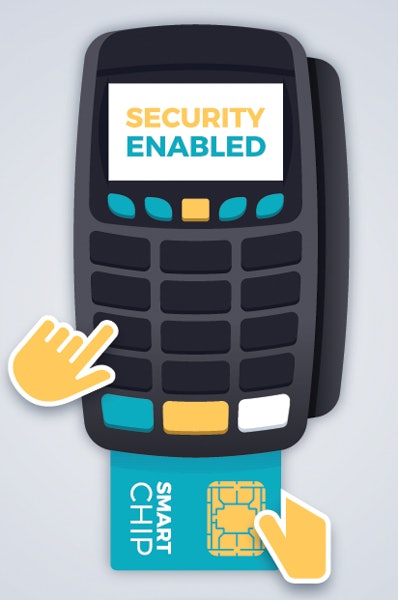 If you've been putting off purchasing a chip card (EMV) reader for your credit card transactions, you're doing your business and your clients a disservice. Why? "If you're a retailer and you don't have a chip card reader, you take on the liability if credit card fraud takes place," says Bob Moraca, National Retail Federation (NRF) vice president of Loss Prevention. "Depending on the amount of fraud that takes place in your shop, it could be an issue"—especially during the holidays when retail theft ramps up.
Implementing a chip card reader isn't as expensive or bulky as it once was; Square offers a $49 compact version that also includes a contactless reader (think: Apple Pay, Android Pay, etc.) for seamless purchasing. Here, the reasons why servicing chip cards gives you and your clients peace of mind.
RELATED: Photo-Sharing Best Practices for Lash Artists
They're hard to clone.
Traditional magnetic-stripe cards make the card users' data static (unchanging), which allows for thieves to "skim" the card information once, clone it and use it. With chip cards, the data is transmitted dynamically, meaning it changes each time it's read, making it pretty useless for a fraudster to steal.
They protect your clients' information from leaking.
Unlike magnetic-stripe cards that broadcast clients' bank information into the payment terminal, the chip card's microchip encrypts this information so that it's difficult for thieves to crack.
RELATED: Marketing Tips to Help Your Salon During the Holidays
They're designed to prevent in-person fraud.
Magnetic-stripe cards can't be authenticated in the moment, making it easy for a thief to successfully swindle you when they swipe a counterfeit card. Chip cards, however, were created to prevent fraudulent charges that occur when nefarious clients physically swipe a counterfeit card at your payment terminal.
They instill client confidence.
When your clients know their information is safe, they'll have a more positive perception of your business—and that's priceless. 
[Image: Getty Images]