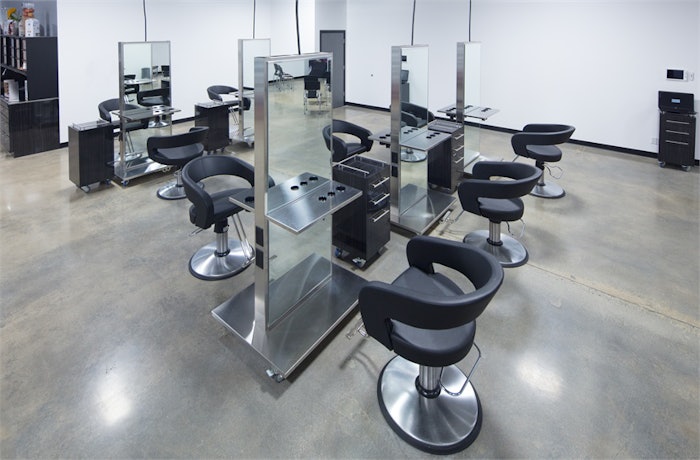 Aloxxi opens a state-of-the-art training studio at the company headquarters in North Hollywood, California.
It isn't a stretch to call Aloxxi president and CEO George Schaeffer a color guru. In the early '80s, he founded OPI—the lacquer brand that formulated unique shades en masse and forever revolutionized how women wear pigment on their nails. After Coty bought the company in 2010, the entrepreneur switched his attention to tresses, applying comparable branding concepts to hair. Just as fans can call out their favorite OPI polish by memorable monikers, Schaeffer hopes to inspire a "color personality" via Aloxxi. Hues dubbed "Sparkling Prosecco," "Naughty in Napoli" and the eponymous "Giorgio's Folly" put power back into clients' hands by letting them know what shades they're sporting on their heads.
This summer, Aloxxi opened the doors to its brand-new 3,000-square-foot studio in North Hollywood, California. Unlike the brand's products that span every color of the rainbow, this interior is monochromatically minimalistic. "A combination of steel, wood and fabric lend the decor a vibe that's clean and modern," notes Robert Siebert, director of education. It took six months to construct, from initiation of idea to the ribbon-cutting ceremony. "We wanted to offer a home for all of our family members, including salon professionals, distributors, international partners, sales consultants and trainers," he explains. Everything is mobile, meaning the layout can be configured to host various types of events. While dedicated focus will center on creative learning and artistic growth, additional functions may include North American product testing or photo and video shoots capturing the talent of the advanced education team.
The Studio's inaugural June event hosted top sales consultants from around the country at a three-day seminar devoted to crafting the company's 2018 national education platform. Stylists may look forward to worldwide creative workshops, in-house instructional programs and contemporary editorial plus social media initiatives debuting in the New Year. "As Aloxxi is still a young brand, the opening of The Studio demonstrates our commitment to the salon industry," notes Siebert. "We're building toward bigger things in the future, and this is just the first step."
The Studio
13062 Saticoy Street
North Hollywood, CA 91605 
877.512.7131
aloxxi.com