1. My Family: My family always showed me love, and my brother, David, has always been my biggest supporter. My parents, Marian and David, not only supported me, but also pushed me to constantly strive for something better.
2. My Husband: My husband, Aaron Thompson, is a rock star in his own industry, and every day we have a powwow where we discuss how we can grow our careers—we inspire and push one another.
3. Instagram: I use Instagram not just for fun, but also as a platform to challenge myself. I get to meet and connect with hairstylists from all over the world—people I would never have the opportunity to know without the power of social media! I use my platform to educate, entertain and inspire others.
4. My Assistant: Jennifer DeFreitas, my assistant, reminds me of what it's like to just start out in this industry. Her constant drive keeps me ambitious, and the way she views the beauty community with wide eyes reminds me to stay hopeful even on hard days.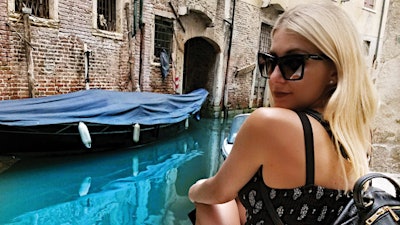 5. Travel: The more I travel, the more I expose myself to different cultures, hair textures, trends and products.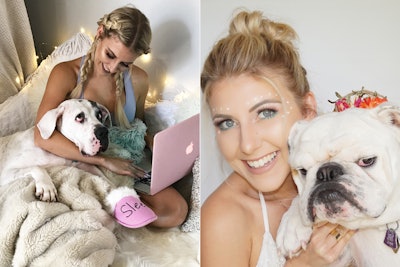 6. My Pups: My American bulldog, Cane, recently passed away; his passing has really shown me how short life is and how we should take nothing for granted. The bond between me and his best friend Loki, our English bulldog, has grown so much. Animals are truly innocent in this world and have the kindest hearts, and they inspire me to be kinder.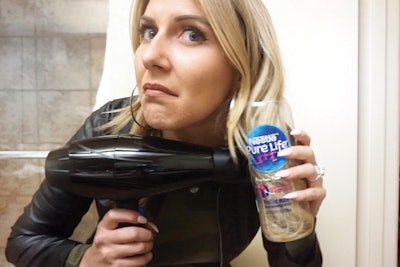 7. Videography: Consuming videos is the new form of affordable education. People who I've never met use my foiling techniques because they saw me do it in an Instagram video. (In a digital world videos are so important for our algorithms, but not everyone knows how to properly execute them. You can check out my video about how to film and edit yourself on your phone by logging on to omgartistry.com.)
– As told to Alyson Ostermann-Kerr
[Images: Courtesy of Olivia Smalley]