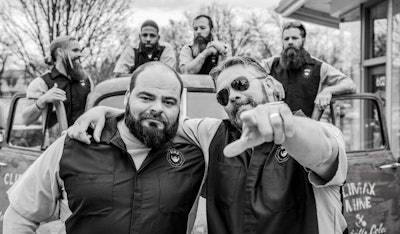 Mike "Big Smooth" Howland and CEO "Gib" Brian Long are far from your typical hair-biz entrepreneurs—and they wouldn't have it any other way.
Ask Gibs Grooming CEO Brian "Gib" Long and COO Mike "Big Smooth" Howland about their favorite downtime activity and their answers are identical: fishing. Maybe not so surprising coming from these two peas in a pod, who formed their partnership when Howland purchased Long's bagel shop back in the day. But what is surprising is how that common passion led them to men's grooming. "I started in this industry with hair feathers, which came from fishing lure feathers," Long recalls. "When that trend died, we were able to crowbar our way back into beauty by creating a beard oil, and Gibs Grooming was born."
RELATED: Behind the Scenes of the GIBS Grooming Cover Shoot
Bagels and fishing lures indeed kicked off what Howland calls "a lifetime friendship and one hell of a crazy endeavor into the beauty industry." But once Long fished his way inside, the industry ended up hooking him for life. A lifetime entrepreneur with a love for the Grateful Dead, he gravitated toward the beauty industry's fun environment and cast of eccentric characters, which he felt carried the same zany energy, artistry and creativity that surrounded the hippie rockers. To introduce its flagship beard oil, the duo recruited a talented team including Big Sexy Hair co-creator Donna Federici, who is now Gibs' genius marketing mind; Mike Nave, founder of the Beauty Industry Report, who assembled a dream team of like-minded employees; and Wayne Morris of Audrey Morris Cosmetics, teacher of crucial industry survival tactics. "Identify your strengths and weaknesses before you embark on an adventure; then you can assemble a team," Long advises. "You're only as good as the people that surround you."
RELATED: The Return of the Moustache
Howland admits that while entrepreneurship remains ever inspiring, true success is all about the grind—and maybe a few freak-outs along the way. But, as the edgy brand has flourished into a full line of irreverently named men's grooming products (think Puck It soap and O.G. Baller Playable Pomade), the unlikely hair heroes continue to ride the wave. Howland chuckles, "Our journey has been fun, crazy, stressful and exciting, with constant pinch-me moments."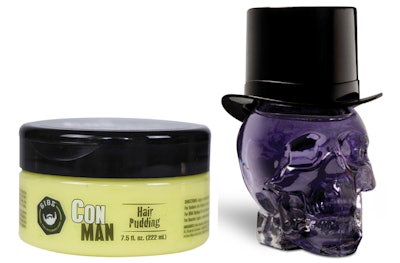 The Gibs Guys dish on their raves and faves. 
Go-to Gibs Product?
Howland: Con Man Hair Pudding.
Long: Alpha Male Beard, Hair & Tattoo Oil.
Favorite Film?
Howland: The Godfather—all three of them.
Long: The Godfather and Jaws.
Favorite Time Period?
Howland: Ancient Rome. Long: The '80s!
[Images: Courtesy of Gibs Grooming]