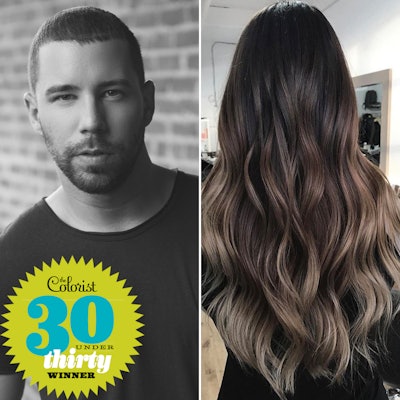 Every year, we honor 30 young colorists under 30 to find out what makes them so talented and successful. Get to know 2017 honoree Maxime Gourgues in our interview with him:
Name: Maxime Gourgues
Age: 27
Company name, location: Max Gourgues; Montreal, Canada
Title: Hair Colorist
Instagram: @MaxGourgues
Primary color line: Oligo Professionnel
Tell me a little bit about yourself:
I grew up in a small village; I left home at 16 years old. Decided I would let life teach me the way. I arrived in Montreal at 18, and I got my first job as an assistant (doing men's shampoos and making coffee). I slowly transitioned at rinsing colors and highlights and fell in love with it. From there, I started watching YouTube videos and took classes and slowly made my way. 
What inspired you to become a colorist?
I was tired of seeing my girlfriends with bad hair color. If they weren't able to find anyone to create good color, I would be the man. I was lucky enough to meet someone who believed in my potential and decided to give it a real shot. 
What are your goals?
I aspire to be a platform artist. I want to perform, entertain, educate and make people dream.
Any accomplishments so far in your career that you're particularly proud of?
My biggest accomplishment would be that I never stopped believing in myself. I started with a dream and decided I would go all the way. I now get to share my knowledge and experience with people who shares the same passion.
What are you hair color specialties?
I specialize in balayage and color melting. Using different shades of colors and lighteners to give multidimensional, believable hair colors.
What do you love most about being a colorist?
It is about the people. There is so many people you walk past every day and you never talk to them. But if some of them come in for highlights you get to know them. The ultimate goal is to make every person feel unique and beautiful. 
Who would you consider to be your mentors/role models, and why?
I have so many role models. If I had to pick one, it would be Guy Tang—he's a man that shows the power of a transformation. You could be whoever you want to be with time, patience and lots of love.
Please share a hair color, prep or color care tip:
I always love to put myself as if I was the sun. Always take a few steps back to look at your client in the mirror and image where the sun would hit naturally. Also be obsessed with kids' hair color, can't beat Mother Nature.
What is your favorite color trend/technique of the moment?
Tone on tone Balayage. Don't go higher or lower than two shades of your hair color base.