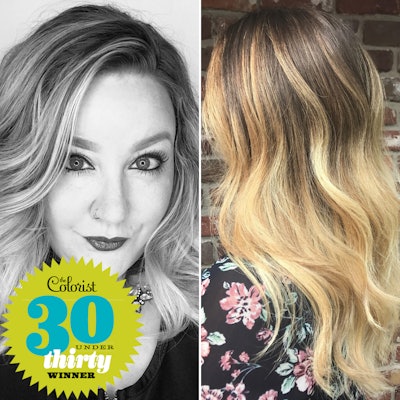 Every year, we honor 30 young colorists under 30 to find out what makes them so talented and successful. Get to know 2017 honoree Kayla Castro in our interview with her:
Name: Kayla Castro
Age: 29
Salon: Steele Hair Gallery; Jacksonville, Florida
Title: Master Stylist
Instagram: @HairByKaylaCastro
Primary color line used: Wella and Kadus
Beauty school: Sutter Beauty College in Yuba City,CA
What inspired you to become a colorist?
The thought of transforming someone's hair into a work of art. Also playing with colors and creating my own tones is super exciting to me.
What are your goals?
A huge goal of mine is to become a Master Color Expert with Wella. Also to be a board-certified colorist.
Any accomplishments so far in your career that you're particularly proud of? 
When I was in beauty school, I attended my first hair show. In that moment of seeing people working the stages and booths, I knew that I wanted to be a part of it. Kadus made that possible this past April when I got to help run the Kadus Professional booth at the San Jose Spring Style Show. It was amazing!
What are your hair color specialties?
I love a good color-correction challenge, but I would have to say balayage. I love the freedom of free-hand painting on the hair, the motions of the application and the amazing, long-lasting dimensional results I get.
What do you love most about being a colorist?  
The transformations are the best. The way my clients look at themselves after a huge transformation is like nothing else. Being able to change their whole perspective of themselves and instill confidence in them. It's truly special what our hands can do for others.
Who would you consider to be your mentors/role models and why?
My mommy. She's stood by my side, cheering me on, through my whole career. She's the first one (besides my husband) that I tell my accomplishments to. As far as mentors and role models, I have three.
Leslie Cooke believed in me and always took extra time to give me advice on becoming a brand educator. Lindsey Elyzabeth Rice saw the fire in me and slipped me the info for a brand that was looking to hire brand educators, and because of that I've had my journey with Kadus! Syrenthia Nazariogreen was my first boss and mentor with Kadus. Syrenthia inspires me not only through Kadus, but in life as well. I am forever grateful for these ladies!
Please share a hair color, prep or color care tip:
If a client sits in my chair, we have a thorough consultation what their goals are and what their color history is. I am completely honest and realistic with my clients, so they know what to expect when going in. I make sure they leave with the proper color-care products that they need to keep their color fresh and vibrant. Another huge thing is to always use a post treatment when finishing each color client. Post treatments are your insurance for longevity, so do not skip this step.
What is your favorite color trend/technique of the moment?
It may be cliche, but I absolutely love balayage/free-hand painting. The possibilities are truly endless, and I love having the freedom of seamless blending.