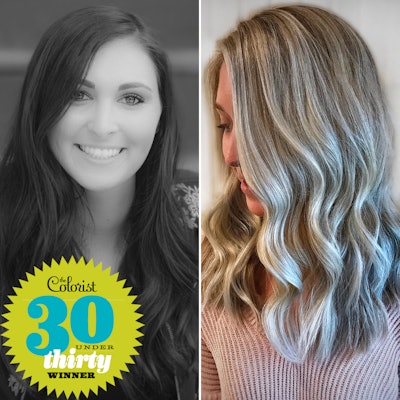 Every year, we honor 30 young colorists under 30 to find out what makes them so talented and successful. Get to know 2017 honoree Fran Peterson in our interview with her:
Name: Fran Peterson
Age: 22
Salon/company name; location: Salon Karma, Bluffton South Carolina  
Title: Matrix Artistic Educator
Instagram: @frannpeterson
Primary color line used: Matrix
Beauty school/location: OCVTS, Toms river, NJ
Tell me a little bit about yourself:
I started my career in the beauty industry when I was 17 years old in New Jersey at Elan Hair Studio. I met my husband in 2014. He's in the military and stationed down in Beaufort, South Carolina. In 2015, I moved down south and found Salon Karma in Bluffton. This is where I really started to grow as a colorist and became a Matrix Artistic Educator.
What inspired you to become a colorist?
I would have to say other artists in the industry really inspired me to become a colorist. I started beauty school when I was 16 years old and started working in a salon when I was 17. I was truly amazed at what these women I worked with were doing. That is what really pushed my creativity and skills working with color.
What are your goals?
I really love the creative side of hair and am hoping to enter and become a NAHA finalist one day. I also love the education side of hair and strive to grow within the Matrix Education Team to really help grow stylists' skills and confidence.
Any accomplishments so far in your career that you're particularly proud of?
I am particularly proud of the clientele I have grown in just two years in a whole new area. Having to start over completely in a new state was challenging, and I am proud that in just two years I was voted best hair stylist of 2017 in this area by my amazing clientele!
What are your hair color specialties?
Dimensional color and placement! Being able to create the best look for my client using their face shape and features to bring out what they love most about themselves.
What do you love most about being a colorist?
I truly love making people feel beautiful. Being able to not just only change how my clients look but also how they feel about themselves is the best part. That is what keeps me loving what I do every day.
Who would you consider to be your mentors/role models, and why?
My mentor/role model is most definitely my boss, Danielle Keasling. She is an Artistic Director for Matrix Education and has been a finalist multiple times in the North American Hairstyling Awards—all while running a salon. For the past two years she has really pushed me to become who I want to be in this industry. From being behind the chair, growing in Matrix Education, and taking my creativity to the next level with editorial work, Danielle has supported me through it all. I know she will continue to throughout my career.
Please share a hair color, prep or color care tip:
Using a masque for color-treated hair once a week is so important! It really makes the color last longer!
What is your favorite color trend/technique of the moment?
Color melting is definitely my favorite trend right now. Being able to customize it with fashion colors, pastels, reds, blondes or brunettes is just the best. It's a color trend that everyone can wear.