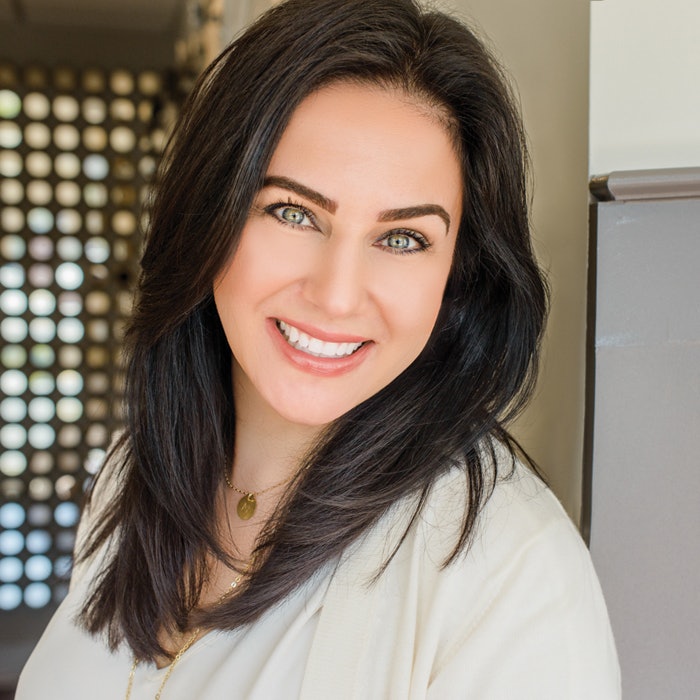 After finding her own healing in brow shaping, Melissa Clifton-Bahrs opened Arch Brow Bar to set clients up for brow services.
When Melissa Clifton-Bahrs envisioned her career, that picture included her as a graphic artist. While in pursuit of her art degree, the tragic loss of her older brother shattered that dream, causing her to reevaluate what it is she wanted—or, rather, needed—in life. "After receiving my art degree, I found the healing I needed working as a makeup artist and esthetician," Clifton-Bahrs shares. As she delved into face artistry, she discovered her true passion. "Being a former art student, I realized that there was a need to put my creativity to work shaping eyebrows," she says. That was 20 years ago, and over the two ensuing decades, Clifton-Bahrs used her exacting background as a graphic art student to hone what she calls an "incredibly precise and detailed brow technique" that includes waxing, trimming and tweezing. "Eventually, I started teaching my technique to keep up with the growing demand," she says.
RELATED: Everything You Need to Know Before You Add Microblading to Your Menu
And that demand only continued to multiply, so to meet it Clifton-Bahrs opened Arch Brow Bar in 2008 with a team of four "Browistas" and two client coordinators. Since then, she's grown her team to include a staff of 25, with 11 Browistas all at the ready to deliver the perfect brow experience. "Our clients come to Arch because they're looking for an expert," Clifton-Bahrs notes, sharing that many botched brow jobs walk through Arch Brow Bar's doors in need of revitalization. "These clients feel hopeless. We get them looking and feeling beautiful again," she says. After analyzing facial proportions and bone structure, and discussing a client's personal style and lifestyle, Browistas whip arches into shape for an initial visit cost that ranges from $33 (for Level One Browistas) to $80 (with Clifton-Bahrs), with maintenance visits ranging from $25 to $39.
Brow services aren't all that's on the menu; clients can enjoy lash extensions with a lash artist certified in Xtreme Lashes by Jo Mousselli, lash and brow tinting, and a full menu of skincare services, such as HydraFacial with CTGF (Connective Tissue Growth Factor) Booster and LED Light Therapy, with a master esthetician.
RELATED: The Truth About Refrigeration and Adhesive
Ever the artist, Clifton-Bahrs notes that she pours her creativity into every component of the salon, from the website visuals to the decor to the essential oil blend she uses in every brow service. She believes that it's these minor details that set Arch Brow Bar apart—and she's ready to keep building upon her successes. "We recently completed a 500-square-foot expansion, adding an additional three treatment rooms, and we hope to open our second location in the near future," she says, adding, "I just want to keep growing this business that I love."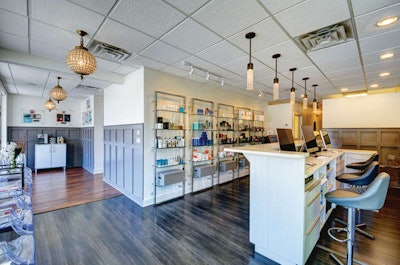 The Vibe: Casual elegance (think: serene grays and white mixed with modern clear Lucite) with a chill vibe. "The decor has clean lines that appeal to both our male and female clients. Our new renovation was inspired by 18th-century French doors, but has a modern feel," says Clifton- Bahrs.
What We Love: Arch Brow Bar gives back to the community, including starting its own Basket Brigade to deliver Thanksgiving dinners to those in need.
Retail Details: Mixed in amongst Blinc, glo Skin Beauty, HydroPeptide and Epicuren is Arch Brow Bar's own line of arch essentials. "Our best-selling brow product is our Brow Fixx, which is a mascara-like product for your brows that covers gray, shades in your brows and gives them a pop," she says.
Most Popular Service: Eyebrow shaping. "People come from as far as New York and Philadelphia for an appointment with one of our highly trained Browistas," Clifton-Bahrs shares.