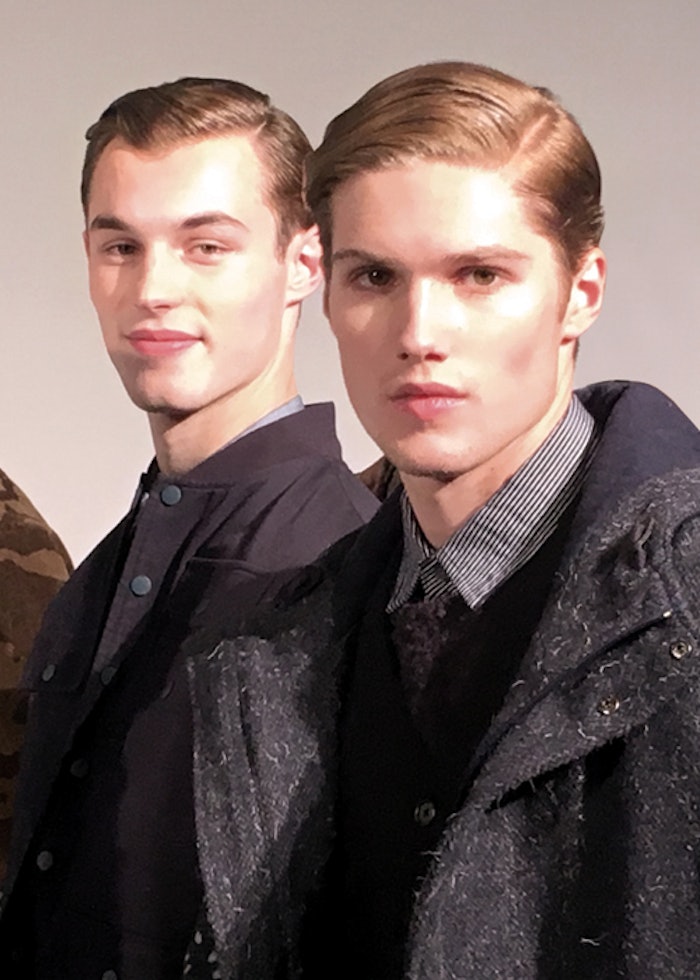 The showcase of menswear and hairstyles didn't disappoint at the 7th edition of New York Men's Day (NYMD), kickoff to New York Fashion Week, at Dune Studios on January 30. From punk to red-carpet-ready to clean-cut military, stylists derived cues from past decades while looking to the current political landscape. Oribe took the helm behind the hair of all 12 NYMD emerging designers' fall/winter 2017 presentations; here's a behind- the-scenes look at the hair behind the designs and the Oribe products used to create them. 
Krammer & Stoudt: NYC doesn't bear the nickname the Windy City but that didn't stop lead stylist Louis Orozco from crafting a windblown design on his models' locks. "The designers wanted the hair to mimic the fabrics [in the collection]," says Orozco, who also randomly added textured braids with pops of color to a few styles. Letting curly gents be curly, Orozco gave straight-haired guys some extra oomph by creating an S-pattern using his hands and a diffuser. 
Star Products: Maximista Thickening Spray, Après Beach Wave and Shine Spray, Dry Texturizing Spray 
Kozaburo: From red platform boots to high-waisted knickers—and then northward to the hair— Kozaburo screamed a modern take on '80s punk music. "It's almost like the boys love that era and styled their own hair—it's meant to be imperfect," explains lead stylist Nathan Nguyen. 
Star Products: Maximista Thickening Spray, Dry Texturizing Spray, Superfine Hair Spray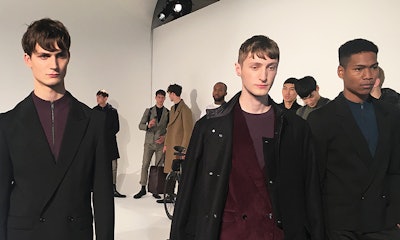 Uri Minkoff: Sure, commuting stinks—but with impeccably tailored garb by Rebecca's big bro and a nice hairdo to boot, you might overlook the pitfalls of the hustle and bustle. To play up a collection inspired by the urban commuter, key stylist Adam Livermore cleaned up the hair but worked with models' natural texture. "It's a man for whom his hair isn't everything but it's something. It's natural, a bit boyish and definitely not over-styled," Livermore says. "It's a clever, cool design that's also elevated and has a level of sophistication to it." 
Star Products: Foundation Mist, Gold Lust Nourishing Hair Oil, Rough Luxury Soft Molding Paste 
RELATED: Top 5 Men's Haircuts for 2017
Bristol: Dribble. Dunk. Score! The collection at Bristol paid homage to the designers' childhood hoop idols. Extra point: key stylist Christian Ceja-Compin's design, a strong 90s middle part that complements front-side, bone-straight locks, which offset back-side texture. "These boys are made to play... with their hair in their face!" laughs Ceja-Compin. 
Star Products: Foundation Mist, Royal Blowout Heat Styling Spray, Dry Texturizing Spray 
Max 'n Chester: When lead stylist Dan Nguyen heard that "military" was part of the designers' inspiration, he "hopped to." "Everyone is very well-groomed and we made them look really militant," says Nguyen, who slicked the locks and parted them in a uniformed side pattern to craft a regimented look. 
Star Products: Gel Sérum 
Private Policy: The hair design at Private Policy goes back—way back—but the presentation's message took its cue from today's social and political climate, with models' faces sporting words like "refugee" and "terrorist." "The inspiration [for the hair] was World War I-era, vintage 20th century men's soldiers," says lead stylist Kien Hoang, "but the show is based on what's happening in the world right now." The look: distinct middle parts with flat locks that are creased to the head. "It's very sculpted and hard like a helmet," Hoang adds. 
Star Products: Rock Hard Gel, Gel Sérum 
Wood House: Lead stylist Orozco gave Wood House models natural and dapper locks. "The models look like they just got in out of the rain and were naturally windblown. The designers wanted it to look very effortless," explains Orozco. For some models he gathered hair in his palm to create a nest pattern and for others he crafted cornrows and braids from the recession to the back of the head. 
Star Products: Surfcomber Tousled Texture Mousse, Foundation Mist, Maximista Thickening Spray, Après Beach Wave and Shine Spray, Dry Texturizing Spray 
RELATED: Tailor Made Men's Styling by Chris Foster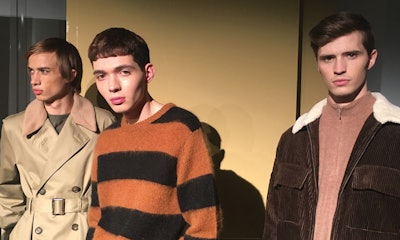 Maiden Noi: At Maiden Noir, the collection's color scheme stems from hues found in Cy Twombly's paintings. Think: muted browns, mustard yellows and burnt oranges, which also harken to the '70s). "We wanted to make it modern and not so literal, so we did '70s-meets-street kid," says key stylist Mandee Hernandez. "It's a little undone and not super-coifed back so it's more relaxed." Hernandez encouraged waves and bends with her hands or a flat iron, gave locks a matte texture and then crafted a center or deep side-part reminiscent of the decade. 
Star Products: Dry Texturizing Spray, AirStyle Flexible Finish Cream, Thick Dry Finishing Spray, Foundation Mist, Smooth Style Serum 
Robert James: Showing camouflage, combat boots, bandanas and protest signs, models carried protest signs and marched into position as Robert James highlighted the political issues facing the country. The majority of the hair design was covered with caps with only small bits peeking through, but underneath lead stylist Davide Marinelli cut locks short, squared and tapered. "He wanted to say they've been fighting for something so the hair had to have a bit of ruggedness to it," he says. 
Star Products: Foundation Mist, Rock Hard Gel 
RELATED: How to Consult Male Clients with Thinning Hair
Swiader: Lead stylist Dan Nguyen played with the designer's inspiration of British punk-meets- Paris romanticism and wound up with an edgy yet soft design that made sparks fly. "It's like a gangster street army," says Nguyen, who saturated longer locks and then twisted and set them to give models a slept-on-their-hair effect. On short styles he picked only at the roots, which he then molded and twisted for texture. 
Star Products: Foundation Mist; Maximista Thickening Spray; Dry Texturizing Spray; Cote d'Azur Luminous Body and Hair Oil 
David Naman: The hair at David Naman directly reflects the collection's mod-to-modern sensibility. For dudes rocking modern duds, stylist Ceja-Compin crafted lived-in, three-day-old texture; for gents who donned the mods, he opted for a free-flowing design. "The hair is a bit more '60s, with bangs in the front. It's a little shattered and not so perfectly done because we don't want them to be pretty," explains Ceja-Compin. 
Star Products: Matte Waves Texture Lotion, Crème for Style, Dry Texturizing Spray 
David Hart: Dressed to the nines in tuxes and big bow ties, the guys at David Hart stole the spotlight with attire and hair suited to any red carpet shindig or Oscar soiree. "We wanted the hair to go with the tuxedos and have it look a little bit looser and freer—but still very well-groomed and off the face," explains lead stylist Hoang. From enhancing natural curls with his hands and irons to polishing straight locks and crafting vintage pompadours, Hoang played his designs to the individual. 
Star Products: Crème for Style, Rough Luxury Molding Wax, Superfine Hair Spray 
[Images: Courtesy of Molly Church]