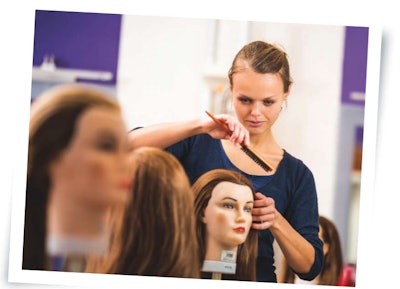 With #WellaCares, the bighearted beauty group grows its thriving Hairdressers at Heart humanitarian-aid program. —FRANCESCA MOISIN
Of a hairdresser's many precision tools, hands are perhaps the most powerful, as they wield the ability to transform not only tresses, but also the lives of those less fortunate. Case in point: Wella Professionals, a brand long committed to altruistic initiatives through Hairdressers at Heart, the company's charitable arm, which (among other efforts) awards grant money to stylists performing philanthropic deeds. In 2013, the group expanded on this already successful program by launching #WellaCares, a call to action challenging all salon pros to think about their impact on the planet—then use specifi c skills, infl uence and talent to positively affect communities and the world at large.
Last year's grand prize winner Adrienne Peters, a stylist at Revel 8 Salon & Spa in Oklahoma City, Oklahoma, won $7,500 for her work on Fostering a Revelation. This unique enterprise takes children aging out of foster care and provides them with salon mentorships, allowing for a fi rsthand glimpse into what beauty careers may entail. Upon completing their all-expenses-paid educational courses plus an 18-month apprenticeship, budding experts are offered full-time positions at Revel 8. Mandie Barnes of AVE Salon in Ogden, Utah, was awarded $5,000 in honor of her endeavors with Haircuts for the Homeless, wherein she and colleagues spend a day giving free snips, socks and snacks to those in need. "With this prize I hope to reach a lot more people and soon get shampoo bowls, so we can wash hair in addition to providing cuts for those in downtown Salt Lake City," shares Barnes. Finally, Stephanie Gearheart, from Prime Designz Salon in Rochester, Michigan, received $2,500 so as to keep working with The Daisy Project, ensuring that kids with disabilities have equal opportunities to participate on playgrounds by installing adaptive equipment like wheelchair-accessible swing sets. Notes Gearheart, "Working together, all of us can make a difference."
Details, Details

When can stylists enter this year's #WellaCares contest?
From March 1 to May 1, 2017, stylists may submit a brief summary detailing their charitable work or philanthropic idea at HairdressersAtHeart.com. Winners will be announced in June!
How are winners chosen?
A panel of Wella-appointed judges select finalists based on quality of entry plus its potential impact on a community, then submissions are posted online for public voting.
What do judges look for?
Whether your program is well underway or is just a nascent humanitarian idea, creative solutions to global problems—poverty, inequality, homelessness— stand out among selections. 
[Images: GETTY IMAGES]