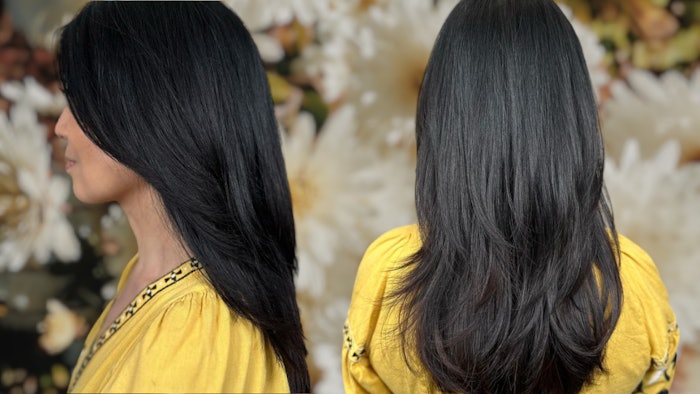 Courtesy of Ming Na Wen and Chaz Dean
Disney Legend Ming-Na Wen celebrated International Women's Day with a hair refresh from her long-time friend and hairstylist Chaz Dean. 
"I love my friendship/relationship with Ming, as we have been together for 23 years now," Dean says. "When she's not working on a specific project, she is usually very open to whatever it is I want to create with her and for her, which makes it exciting and fun. She is like family to me." 
For International Women's Day, Wen had an updated color and cut, as she begins to transition to a lighter summer color. 
"I started off with a thorough consultation regarding her hair history and what our starting points were, especially since I had not seen her for her color in almost a year," Dean says. "Ming is very creative and likes experimenting with coloring and cutting her own hair from time to time. I truly believe if she weren't the incredible actor she is, she would be a hairstylist."
Dean shared exclusively with Beauty Launchpad how he created her desired looked. 
"Ming is about 20% gray and has been using a level 2 Dark Brown permanent hair color at home," Dean shares. "In our discussion, she wanted to keep her roots on a more natural dark brown level but start lightening her midshaft to ends to create an effortless, low-maintenance regimen, working her way into a lighter, softer summer blend." 
Dean also revealed a piece of advice for stylists that are working to transition their clients away from darker colors and into lighter ones as spring and summer approach. 
"When transitioning your clients from dark fall/winter looks, it is essential to lighten them gradually to avoid 'hot roots' as well as to help keep the integrity of the hair, which is exactly what Ming wanted," Dean said. 
When it came time to create Wen's desired color, Dean crafted three different formulas to help achieve the desired look. 
Base: a cool dark mocha brown color to cover Wen's grays.
Midshaft: a level 10 violet/ash with 5 volume peroxide to help gradually lighten this area without the use of lighteners or bleach
Ends: a level 10 violet/ash with 9 volume peroxide to start breaking through the existing color she had on her hair.
For the placement of foils, Dean used long foils and a board in a herringbone pattern.
"I thoroughly smudged the base about 4" to create a shadow root and ensure complete gray coverage," Dean says of his technique. "For the mid length formula, I blended an inside "V" shape pattern. Then for midshaft-ends, I blended an outer "V" connecting the (mid-light) to the (highlight) and continuing the highlight through the ends." 
Dean this pattern for two foils back to back, and on the third foil, he would apply the base formula and then the mid length formula from midshaft to ends.
Wen then processed for 2 hours with no heat (to ensure no hot roots).
"We have worked our way into this process because, in the past, she would get her base color first and then her highlights," Dean reveals. "It was a much longer process, and we tried to cut down on her time in the salon, so this has been a great solution to process her base color, highlights & dimensional color all at the same time." 
When it came time for a cut, Dean and Wen decided upon layers. 
"Ming originally wanted her hair to be all one length, but after realizing she was looking for some crown volume, we decided it was best to add some long layers with a soft face-framing to enhance her face shape and bone structure," Dean shares. 
You can see Wen's Instagram post below, where she shares her before and after transformation.