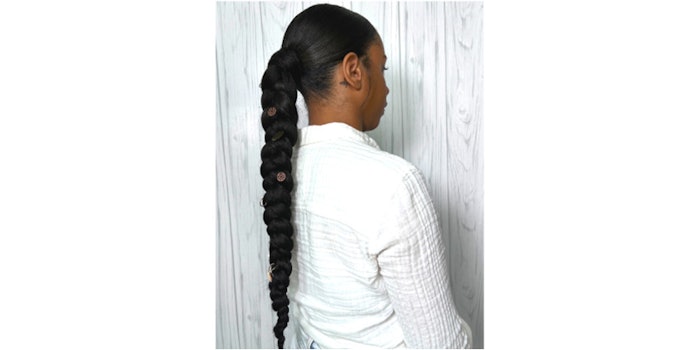 Courtesy of @jadajenkinsco
A regular ponytail works for some, but a long, sleek braided ponytail adds a certain flair.
"This look is not only accessible—it is a great protective style for those with fragile textures. And it can be elevated by sleeking it out, subsectioning it for longevity and refining the hairline," says Jada Jenkins, Sam Villa ambassador, Mizani artist and L'amour de Rose salon owner.
If your clients are looking for a longer hair look this summer, look no further. You can follow the tutorial from Jenkins below. 
How-To: 
Apply a heat protectant and smooth hair with a styling iron. 
Create three sections–side, back and side—and leave face-framing wisps out. Subsectioning helps smooth hair, make the ponytail last longer and prevents it from getting too tight. 
Apply edge control around the hairline and base.
Use a tail comb to make a clean part and comb through hair to remove bumps and lumps. 
Secure the back section into a ponytail.
Switch to a paddle brush to polish one side and then secure it to the back ponytail with an elastic. 
Repeat on the other side.
Finish with hairspray and lock in place by applying low heat from a blowdryer. 
Use a styling iron to add bend to face-framing pieces for a softer hairline.
Add long extensions (with elastics fastened midway on the strands) by looping through the elastic on the back ponytail. Leave a subsection of attached hair out, placing it on top of the head for later.
Create a traditional three-strand plait, weaving extensions and natural hair together. If the ends of natural hair stick out, tuck them under the extensions. (For a longer length, add more extensions while braiding by hooking and splitting a section on your pointer finger and adding to the braid.)
Finish braiding until desired length. Borrow hair from longer lengths to make the ends even.
Take two pieces of hair from either side of the end of the braid and tie them in a knot; wrap around, and tie another knot to lock in the braid. 
Dip the braid in hot water to seal further.
Take the top section that was set aside and mist generously with hairspray. Smooth with a paddle brush and wrap around the base of the ponytail (around elastic), administering hairspray every couple of wraps for extra hold. Tuck ends in with a tail comb, spray again and freeze by applying low heat from a blowdryer to the area. (No pins needed!)
Embellish with accessories affixed on pins.