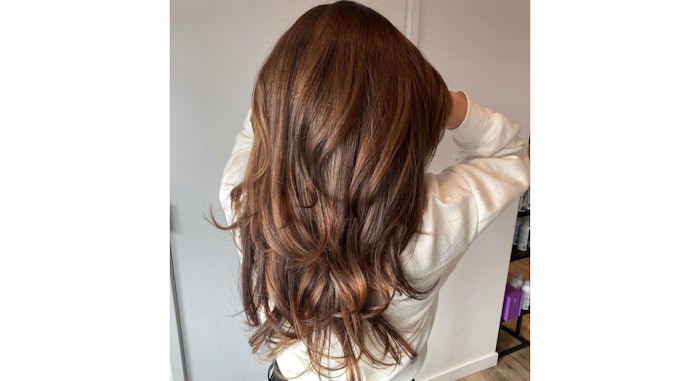 Yes, keeping up with trends and re-creating them for clients is a vital part of being a successful stylist; however, understanding why these trends are so popular is just as important—and often it goes much deeper than just staying in vogue.
Trendalytics, a company specializing in predictive digital data and emerging trends, has rounded up three hair trends that have been steadily growing on internet searches and social media. Read on to learn what your clients are searching for and why.
1. Curl Refresher
According to Trendalytics, clients are looking to flaunt their natural texture in the healthiest way possible. Searches for "curl refresher" have grown 31 percent since 2021. Products that help enhance natural curls, including curl creams, are also popular searches.
Curl refreshers may be most saturated in the mass market, but professional products of this type can be retailed in your salon to curly clients who want to flaunt what nature gave them this summer. 
2. Rosemary Oil
There has been more focus on female hair loss over the past few years, and recent internet searches suggest that a lot of women are looking to combat this often-difficult topic. According to Trendalytics, ingredients that support hair health and growth, like rosemary oil, have been gaining popularity. There are 39,000 average weekly searches for rosemary oil, which is a 116 percent increase over 2021.
While this may be a product trend rooted in social media, the fact that there is so much interest in combatting hair loss should give stylists pause. Having open, honest conversations about hair loss with your clients and educating them on products and practices to assuage the situation can build trust and security during a tough circumstance for many.
3. The Butterfly Haircut
Thanks to TikTok (naturally) the butterfly haircut is gaining massive popularity. The cut, which consists of shorter layers on top that effortlessly blend into longer layers, is a combination of movement and texture. Trendalytics found that there are 9,000 average weekly searches for butterfly haircuts, a 911 percent increase over 2021.
When it comes to summer looks, effortless-seeming, hassle-free hair is always in style. The butterfly cut helps give the appearance of texture.