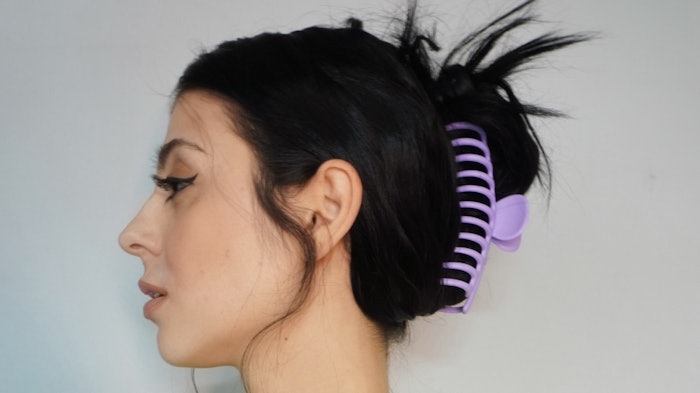 Courtesy of @kolor.me.karlaa
Karla Valenzuela, Sam Villa ambassador and Redken educator, shares how to style the on-trend banana clips.
"Banana clips are so much fun, really easy to explain to guests, and they're trending for summer 2022," says Valenzuela.
Banana clips can be worn by all different types of hair textures.
Check out the different ways to style the clips below:
Classic Banana Clip Updo
Twist hair and form into a French Twist, leaving some ends out.
Enclose a large banana clip around the entire twist.
Smooth ends with a flat iron and apply a firm-grip hairspray for a spiked Y2K vibe.
Half Up/Half Down
Gather hair from both front sides into the middle back of head (option: leave out two face-framing pieces).
Grab those sections with a medium-size banana clip and secure.
Apply texturizing spray for separation. 
Face-Framing Mini Clips
Section out 1" slices on both sides of face and place three clips about 2" apart.
Gently pull the hair between the clips to expand and add volume to create a bubble effect.