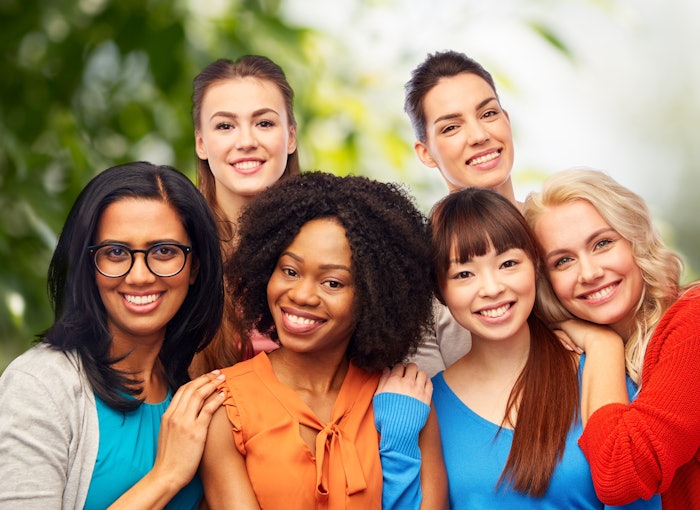 As a hairstylist, it's important to make sure the styles your clients request are ideal for their face shape.
Tom Smith, color creative director international for Evo Hair, breaks down the styles that work best with various face shapes. 
Round Face Shapes
Overview: For rounder face shapes it's all about creating corners and cutting off roundness. Haircuts starting higher at the top can help lengthen the face, with curves along the sides taking off some of the circular shape.
Styling Tips: Lengths longer than the jaw work well especially since shorter haircuts, or ones in line with the face, can make features appear wider. Side partings are useful here and having asymmetrical hair can draw eyes away from roundness. Smith recommends elongating the face by having the highest point of the forehead shown off and more width added from the cut. Slightly triangular-shaped haircuts can also balance out those round features.
For shorter cuts, it's important to create the illusion of square or higher shapes. Go shorter on the sides and longer at the top to elongate and avoid further roundness.
Square Face Shapes
Overview: For square face shapes, curves generally work better than angles or straight lines and always soften a harder, squared face.
Styling Tips: Long haircuts can be worn with styled waves to curve around the face and soften squareness. However, a straight-cut bob is a great example of where strong lines can work out. The middle parting and hair are worn slightly forward on the face, and this helps to lengthen features.
Curls in their essence are also curvy and create beautiful, rounded shape. By framing nice curves over the forehead, this works much better than a straight fringe across and accentuates cheekbones over the general squareness of the jaw.
What to Avoid: Bangs are typically a no-go, according to Smith.
Long Face Shapes
Overview: For long face shapes, it's all about creating the illusion of a shorter face through the frame of a haircut. Hairstyles with volume or width work well for balancing out longer features.
Styling Tips: A side parting can take off height and add width to long hair.
For shorter hair, a clever trick is to tuck one side behind the ear and pull attention to the cheekbone. When you add this to the texture on the opposite side, you can balance out longer features. As a general styling tip for all lengths, tuck both sides behind the ears to highlight cheekbones and widen the face.
Heart-Shaped Faces
Overview: Heart-shaped faces tend to have a broader, wider top of the head so lengths that cut off top corners and narrow the face work especially well.
Styling Tips: It can help to shape and frame the face with a sweeping bang or face-framing layers. With middle partings, you can cut off corners and slim features at the top by making it look more in proportion to the lower part of the face. A clever trick is to have haircuts finish just below the jaw with a fun kick out to be the widest and thickest part.
For shorter hair, make sure there's not too much volume at the top. You can make it work by leaving more length and fullness at the bottom to balance out facial features.
Oval Face Shape
Overview: Oval-shaped faces are generally neutral and lucky in that they can support a variety of different hairstyles and cut variations.
Styling Tips: Although oval works with just about everything, Smith recommends looking at the face and considering what features you want to enhance. This can be achieved with both color and cut, as highlighting near the eyes can be a nice contrast against well-groomed eyebrows. Alternatively, if you highlight more through the tips of face-framing layers, this can draw attention to the lips or jawline.