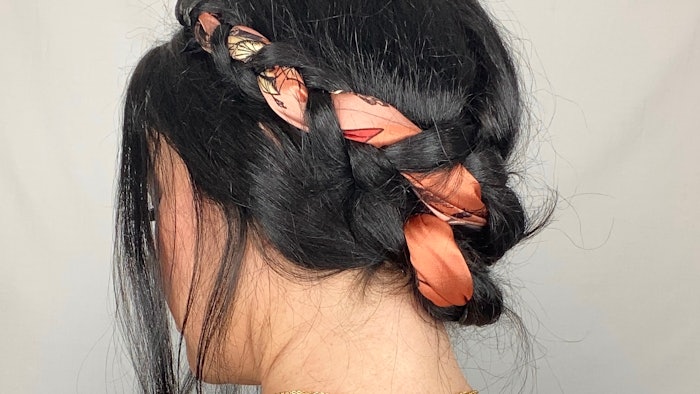 Courtesy of @ellendevinehair
Crown braids with scarves are making a comeback, especially on TikTok.
Ellen Devine, Sam Villa ambassador, breaks down one of the prettiest ways to wear a scarf in you or your client's hair.
"A big square silk scarf works best—one that's fairly large, because you want it to pass the natural hair length when you braid," explains Devine.
How-To: Crown Braid
Brush hair with a Sam Villa Artist Series Finishing Brush (or another brush of your choosing) to smooth; create two low ponytails with a center part; then, pull out face-framing pieces.
Fold a large square scarf into a triangle and then the long way until it's 3" wide (oblong).
Split hair above one elastic and feed the end of the scarf through. Repeat on the other side.
Divide hair on one side into two sections. Create a three-strand braid, with the scarf being the third strand.
Braid until the natural hair ends, secure with elastic, and repeat on the other side.
Lift both braids above the head and wrap in the opposite direction.
From here, either tie a bow or feed ends back down the other side of the braid, tucking in loose ends to create a crown.
Pin the bottom back for extra hold.
"This is such an easy upstyle and priceless on a bad hair day!" Devine enthuses.