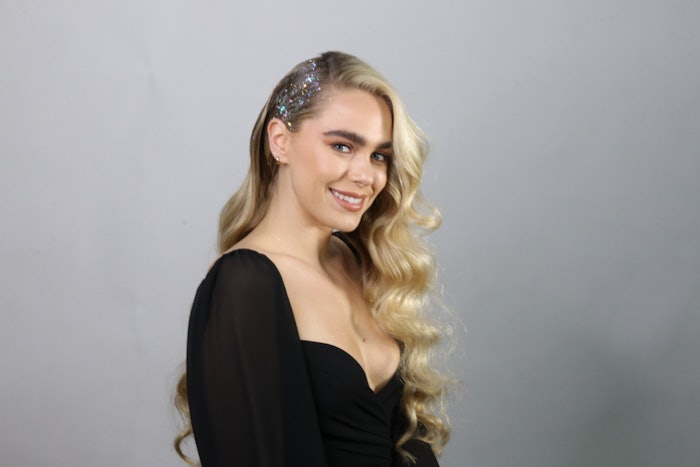 Hairstylist, influencer and Aiir Professional founder Jenny Strebe inspires two glam holiday looks.
Your clients can rock these easy-to-create holiday glam styles with their quarantine crew!
How to achieve the looks:
New Years Glitter
Products Used:
Step-by-Step:
Part hair on the desired side. Create a severe side part for extra holiday drama!
Take 1-2 inch sections of hair, using a 1-inch curling iron and generously spray Flexible Hold Aiir Spray. Point your 1-inch curling iron down and curl sections away from the face.
On the side that is opposite of where you are parting your hair, generously spray Flexible Hold Aiir spray while combing the hair down toward the nape. Once a large section is right behind the ear, bobby-pin the section tight to the head in a crisscross section.
Use Flexible Hold Aiir Spray on the section. While the hairspray is still wet, lightly sprinkle glitter on the section.
Glamour Braid
Products Used:
Step-by-Step:
Curl sections of hair using a 1-inch curling iron and finish with Flexible Hold Aiir Spray. Tip: If hair is resistant to curling use Texture Mousse to help create hold and volume.
Section out a triangle area on top of the head off the desired part. Create a side fishtail braid technique by pulling the hair in front of the shoulder and take one section of hair from one side and pull it over the other side. Repeat this technique until you get to the ends and secure with a hair elastic
Spray Texture AIIR on the braid and gently pull sections out. Texture AIIR will give hair hold when you pull it out, providing instant volume.
Release the top triangle section. To glam it up a bit, take small horizontal sections and twist away from the face. Spray Texture AIIR to add fullness to the twisted sections. Then bobby-pin the sections straight into the braid.