Styles evolve, particularly as you age. A trendy cut likely won't work as well on a 50-year-old as it does on someone in his 20s. The key is to work with each individual client, understand his routine and daily life in order to create a style that will work with his demographic. For this unique shoot, MAN worked with John Paul Mitchell Systems and the company's international trainer Jason Reyes to create distinctive looks for each man, from youthful to more mature. "Age definitely plays a role when it comes to the cuts I give. As men age, some have thinner hair and that can play a big role with styling options," says Reyes. "But the most important [gauge] is how that person carries his age based on lifestyle and fashion."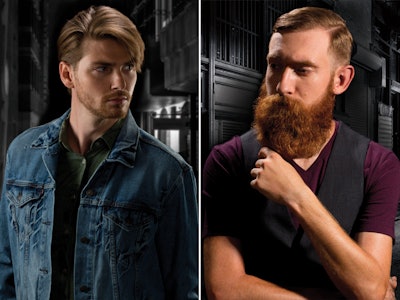 Twenties (left)
Model Greg Hunter arrived with shoulder-length locks, which Reyes promptly snipped. "I worked with a graduated shape, cutting inside my hand to control de-elevation," he says. To style, Reyes used Paul Mitchell Sculpting Foam on damp hair for volume and control. After blow- drying, he applied a small amount of Tea Tree Shaping Cream to preserve a matte finish. "It's an especially great product when working with lighter hair," Reyes explains. Shirt: Cotton On; jacket: Levis; jeans: AG Jeans. 
Thirties (right)
Reyes used a clipper-over-comb technique for this close-cut fade, then trimmed the beard with scissors to customize its shape and complement the model's facial features. "I styled his hair with Mitch Barber's Classic for a high shine and polished look," he says. Shirt: Theory; vest: John Varvatos.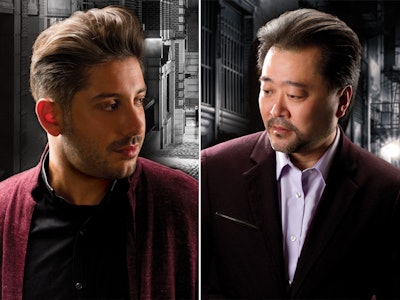 Forties (left)
"On damp hair, I applied Paul Mitchell Super Skinny Serum because his hair was coarse and I needed to soften it for better control," says Reyes. "Once dry, I topped it with a small amount of Mitch Hardwired." Sweater: John Varvatos; shirt: The Kooples. 
Fifties (right)
For finer hair texture, Reyes advises working MarulaOil 3-in-1 Styling Cream into damp mops and blow-drying upward for volume. "I applied a small amount of Mitch Clean Cut and finished with Paul Mitchell Stay Strong hairspray to lock in style and provide long-lasting hold," he says. Jacket: John Varvatos; shirt: Calvin Klein. 
[Images: Courtesy of Cory Sorensen]