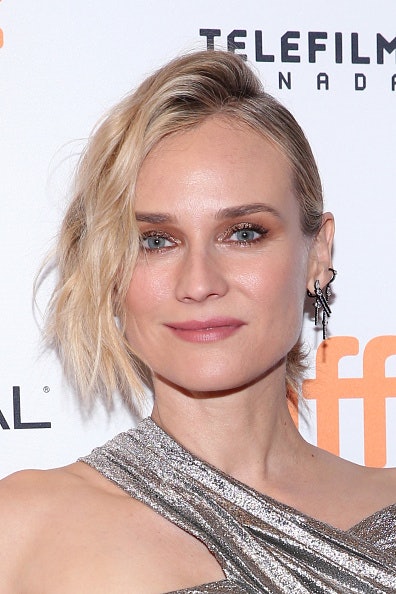 Diane Kruger wowed the TIFF crowds at the premiere of her new movie, "In the Fade," with her stunning silver dress. Knowing the dress would be the focus, stylist Bridget Brager created a stunning hairstyle that would complement it well. Read below for her tips on how to recreate it!
Step-by-Step from Bridget Brager
Beginning with wet hair, I used the T3 Featherweight Luxe 2i dryer to rough dry the hair to enhance texture and volume. At the end of the blow dry, I used the cool shot while holding the roots up to 'freeze' the volume.
Once completely dry, I created a deep, angled side part with a rat tail comb.
Next, I separated the top section of the hair and clipped it while creating a low, sleek ponytail, using the T3 SinglePass Luxe flat iron to create bends for a messy texture in the short ends of the ponytail.
Taking down the top section, I then took 1" vertical sections and made bends in the hair using the T3 SinglePass Luxe Flat Iron.
Technique: I did this by clamping the flat iron on each section about an inch away from the head. I then began to create a half bend up, and then, opening my iron before making a complete turn, bent the hair in the opposite direction. I continued this technique down to the ends.
When completed, I used my fingers to relax the bends in the hair so it was not so wavy.
Once I was at the very top of the head, I used a rat tail comb and backcombed for added height at the crown. Then, I made sure to make the same wave with the flat iron around the face for "perfect face framing hair!"
Finally, I mixed together a light oil and texture paste and scrunched the hair for added texture and shine. Once the hair was in place, I finished with a strong hairspray.
[Image from Getty]