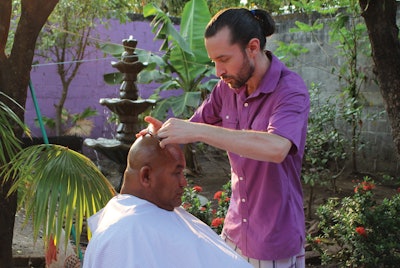 Who needs a combover when the bald look is a clean, masculine statement in and of itself? That's the attitude at Valentine's Men's Hair Tailor in Seattle, where owner Thaddeus Valentine has created the signature PASS system bald shave. 
"PASS stands for pressure, angle, speed and stroke," explains Valentine. "To prep, bring the hair down to about 1/16 of an inch, apply a hot towel, exfoliate the scalp and then use the hot towel again before applying a leave-on moisturizer." Next, Valentine uses a badger-bristle brush to work the moisturizer into a lather and uses his hands to feel for bone structure, skin tags, moles, bumps and ingrown hairs. "It's important to feel and see these, so you can take a slightly different angle and maneuver around them," he notes. 
RELATED: Create Deep Texture in Men's Short Haircuts with Andrew Carruthers
The PASS System:
P. Use light, consistent pressure.
A. Always maintain a 45-degree angle throughout.
S. Using a good blade and a sharp razor, work smoothly at a consistent speed or the blade could skip or cut any blemishes.
S. Start at the front hairline and stroke the skin, moving back in 1/2- inch increments through four progressions. Then continue to work back in 2-inch increments. The razor should glide through, no matter how coarse or fine the hair.
RELATED: The Rise of Scalp Micropigmentation
Valentine's Client Tips
The shave is a ritual with a straight razor. To maintain and touch up, use electric razors that go skin tight, says Valentine: "Always lead the way with your finger and move it across the scalp before you swipe with the blade. This way, you can look for problem areas. You must be able to see the scalp, so avoid heavy lathers; use a shaving oil or a low-lather shaving soap." The best looks, he says, start to fade to a 5 o'clock shadow in front of the ear at the sideburn area, or move into a beard. To carefully begin the fade, pull the ears down and to the side.
Keep the scalp soft with moisturizers and massage, and by drinking plenty of water. Avoid complex oils, advises Valentine. "The best thing to put on your scalp is pure, organic jojoba oil which costs under $20 for 8-12 ounces," he says. "I've worked with mechanics, fishermen and outdoorsmen, and it's what they always use." While other essential oils can be used, jojoba is known specifically for stimulating blood circulation for a supple head.
Tools of Choice: OM4 Organic Male Citrus Bamboo Resurfacing Scrub and OM4 Environmental Defense Hydration Complex Moisturizer; Badger Bristle Shaving Brush; the Pro Blade by Feather Japanese Straight Razor.
[Images: Courtesy of Valentine's Men's Hair Taylor]