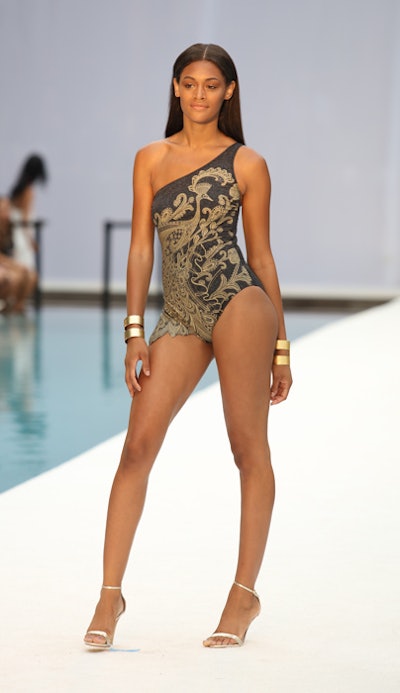 Dramatic prints, exclusive embroideries, and exquisite lace were all the rage throughout Gottex's Miami Swim Week Runway. Gottex Cruise Collections 2018 were pure glamor, so the models' hair had to be too. Adrien Flammier took the task well, creating one look that worked across all shows. We have the instructions for how you can recreate it.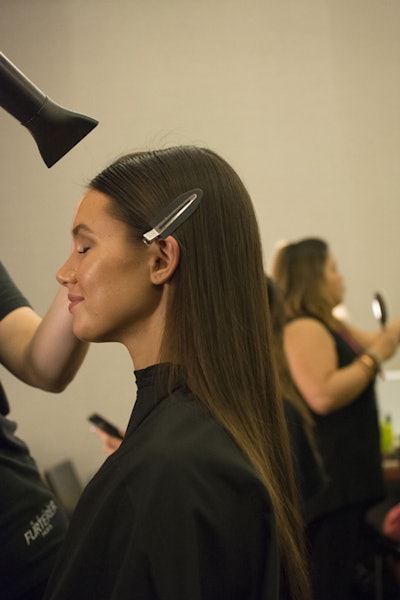 Steps:
After brushing hair with a Mason Pearson flat brush, make a precise middle part with the end of a rattail comb. Brush through again, leaving hair loose in front. Gather hair in back.
Sectioning off one layer at a time, starting with the bottom layer, spray each layer generously with René Furterer Naturia Extra Gentle Detangling Spray to give the hair a natural sheen.
Work your way up to the crown, and finish wiht the hair in front. The idea is to get the hair really wet, as if it's just been shampooed.
Repeat entire process, thsi time with René Furterer Volumizing Conditioning Spray - No Rinse to add hold.
Brush through hair again. Using a blow dryer with a nozzle attachment, rough-dry hair with hands to bring out the natural texture while preventing frizz. Stop rough-drying once the hair is 60% dry.
Section off hair in front, tucking behind ears; hold in place with dent-free clips. It's important to keep the hair on both sides of the part very flat at the crown.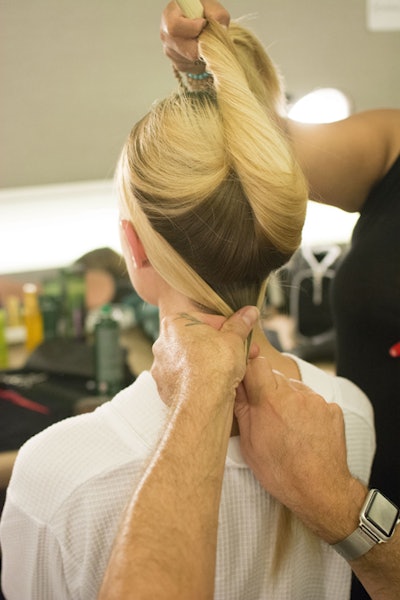 Continue blow drying, pulling sections taut with a flat brush to give hair a smooth, frizz-free finish. After blow out, comb through hair with a wide-tooth comb.
Twisting and clipping off hair in back, leave bottom layer free and gather into a low ponytail at the nape of the neck. Remove clips in front and gently pull back the sections behind the ears to connect with the ponytail. Spray the blended ponytail with René Furterer Vegetal Strong Hold Finishing Hair Spray to boost hold.
To secure the ponytail, wind a length of skinny black stretchy cord around the base and tie into a knot, trimming the ends.
Remove the clip and take down the hair in back over the ponytail, then finesse hair with hands. Combining sections from the front with the lowest layer in back into a hidden ponytail keeps the hair from fanning out.
[Images courtesy of René Furterer]