Sam Villa, co-founder of Sam Villa® and Global Artistic Ambassador for Redken 5th Avenue, has always been known for fantastic braids. He is always discovering new and different ways to evolve the traditional braids, knots and twists to make them new again. His latest is a French Fishtail Braid Up Style, as shown in the video above.
Villa starts with a fishtail braid and then gradually adds sections from the hairline to the braid before pinning into a beautiful up style.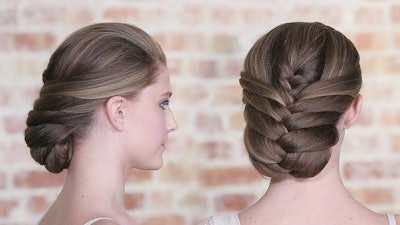 Tips:
Always pre-texturize hair with the Sam Villa Signature Series Textur Professional Texturizing Iron to create modern texture and a solid foundation for the up style.
Use a heat protecting spray like Redken iron shape 11 to protect hair from thermal tools and to hold texture in.
Use the same tension and rhythm when braiding to ensure a consistent weave. 
Slice first and then weave hair into opposite hand. 
Pull the fishtail braid apart gently for bolder texture and volume. 
Where hair is held is where the pin should be secured – weave the pin up and down before the last push into the hair.
"It's all about simplicity – approaching traditional braiding techniques from a different perspective to make them fresh," he said.
[Image and video courtesy of Sam Villa]