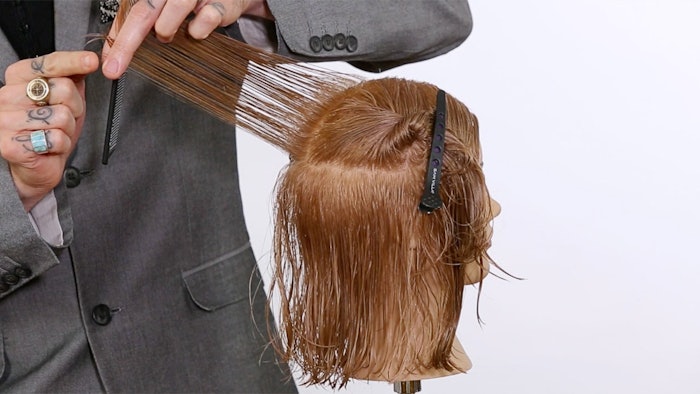 Learning how to establish a safety guide when layering hair above the ears is critical for stylists. Watch Andrew Carruthers, Education Director for Sam Villa, share a fundamental tip to help find that safe point to start layers to prevent creating a "hole" above the ear. 
"The hair at the highest point of each ear is the hair that has to travel the longest to reach the perimeter, that is where you need to set your guide," Carruthers said.
Start by locating the hair at the highest point of each ear and then use a Sam Villa Signature Series Short Cutting Comb to create a vertical line to the top of the head and a horizontal line from that point to the back of the head.  Then, clip all hair in the section up with Sam Villa Dry Cutting Clips.  Look at the horizontal line under the section – as long as nothing is cut below it, there will not be a hole.
"That line is your safety net, as long as you don't cut below it, you will not create any unwanted voids," adds Carruthers.
For more answers to common challenges experienced behind the chair, check out Problems and Solutions.
[Image and video courtesy of Sam Villa]