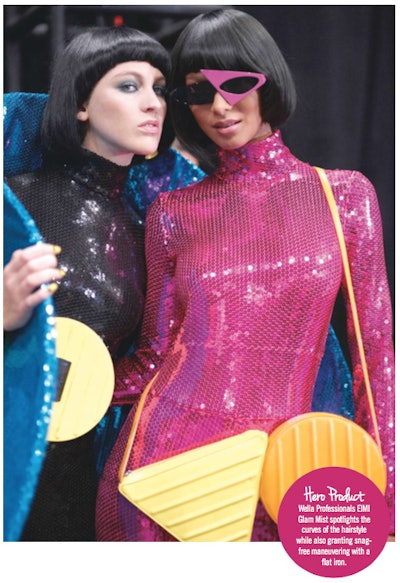 Asymmetrical bowl cuts serve up seriously fun silhouettes at Jeremy Scott. —KARIE L. FROST
When a fashion collection's name is "Slime City," the accompanying beauty has license to be completely kooky. Yet, in Wella Professionals (@wellahairusa) global creative director Eugene Souleiman's hands, the asymmetrical bobs he's cutting backstage at Jeremy Scott are anything but bizarre. In his mind, it would have been too easy to jump on the '80s train that steamrolls through the collection. "Haircuts in the '80s were geometric and crazy, but I wanted to create something more beautiful than that," he says. "I wanted to do '80s with a '60s feeling." To bring in the '60s, he turned to the hair maestro of that era: Vidal Sassoon. "My reference was an old photo I've got of a Vidal Sassoon haircut that's like a beret," Souleiman explains.
To elevate what he calls a "hairdresser kind of haircut," he chooses an assortment of wigs, all of which he colored shades that today's stylish women would clamor to achieve (think: dusty platinum with dark roots or a rich red with endless depth.) He cuts each wig on the bias, the shortest point being above the eyebrow and gradually lengthening as the cut moves around the head.
Because wigs can be shifty to manipulate, Souleiman preps them with Wella Professionals EIMI Perfect Setting "to give the right texture to work with," and blow-dries each using a round brush to soften any sharp edges to the style. To increase gloss and pave the way for a flat iron to glide through the wig without snagging, he lightly sprays on EIMI Glam Mist and combs it through the lengths. With each pass of the flat iron, Souleiman bends the ends of the wig, creating a rounded bowl shape. "This short hairstyle is all about the silhouette, the line and the shine," he says. Is there a hint of '80s to be found in it? "Yes! It's '80s because it's twisted!" he laughs, before adding, "I'd say it's a twisted version of the '60s." Regardless of the era referenced, it's a style that doesn't take itself seriously—which, by the looks of the show's playfully attired attendees, seems to hit the mark.