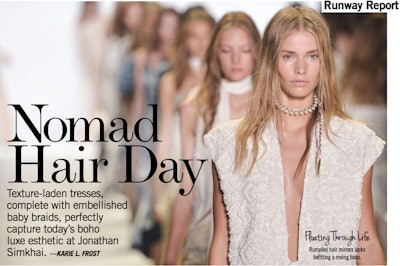 Texture-laden tresses, complete with embellished baby braids, perfectly capture today's boho luxe esthetic at Jonathan Simkhai. —KLF
If ever there was a time to use the term "boho luxe," this is it: Designer Jonathan Simkhai's lineup of ivory and chambray dresses, each distressed with raw texture and ample detailing (think: cotton balls, pearls, rope and mirrors), would be right at home draping from the shoulders of to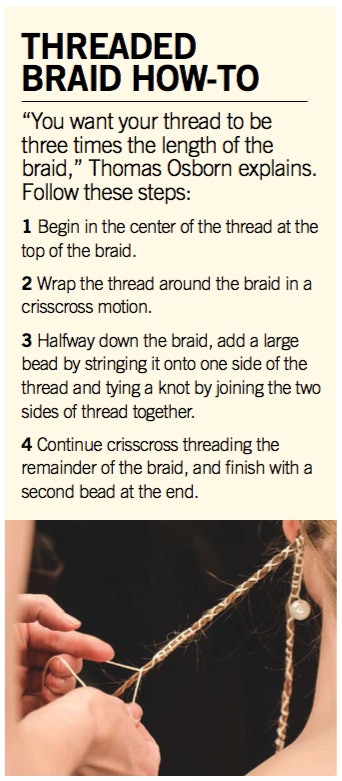 day's bohemian beauty. And that certainly makes sense, as the beauty directive is "desert drifter," a nomadic woman with money to spare whose restless nature leads her on an endless journey from one arid locale to the next.
To that end, "the hair is all about creating texture that isn't too polished," says hair lead and TIGI US creative director Thomas Osborn. Obviously, nomads nix polish—who has the time for hair finishing when life is so transitory? To introduce the desert into his hairdo, Osborn preps with Catwalk by TIGI Texturising Salt Spray (@catwalkbytigi) for sandy grit and rough-dries the hair with his fingers. After parting hair at the nape, he wraps sections horizontally around a 1 ½-inch curling iron, leaving the ends out yet not closing the clamp. "This way it's more of a wave and less of a curl," he relates. After loosening waves with his fingers, Osborn goes back in with a flat iron to unkink random areas. "We don't want too much fullness to it," he notes.
At this point, Osborn goes full-tilt boho by first creating a tiny braid underneath the left ear that he decks out with crisscrossed thread and two beads; thenhe adds two more braids—one with thread, one without. "The hair wrap adds a modern twist, evoking feelings of a distant place," he explains of the embellishment.
To finish, Osborn rakes Hairista through the mid-lengths, mussing up the style with his hands, and then tamps on Transforming Dry Shampoo and Work It Hair Spray to rumple ends into a gritty texture befitting someone who endlessly roves. He admits, "It's almost like a girl who's been laying in the sun where her hair has sucked up the lotion from her back." Though that sounds undesirable, the finished look is one any woman—bohemian or not—would covet.