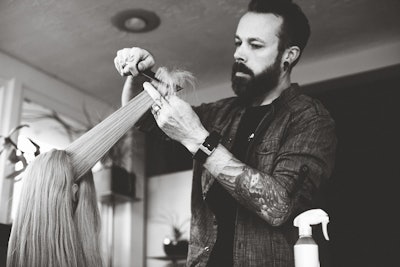 After time spent traveling, educating, and coaching hair professionals, the Sam Villa Team has identified a problem that faces many stylists: unbalanced layers and their cause. To help explain the problem and why it happens, Andrew Caruthers, director of education for Sam Villa, offered some guidance.
Step consistently on each side.  When sections are over directed, they are pulled to the center of the body.  If a stylist is moving more while cutting one side of the head versus the other, there will be discrepancies in length and weight because the center of the body changes with each footstep.  Over direction controls weight and length, so if there are inconsistencies in over directing, the sides will not match.
Pay attention to the over direction within each section. It's easy to get in the habit of over directing, but where the hair is being over directed to must be clear. If a piece of hair from a new section is over directed back to a guide pulled straight out from the head on one side and on the other side the guide is not pulled out at it's natural point due to moving less, the new piece of hair is being stretched more to meet the guide.  This will result in building more length and weight on that side.
Watch the video below for more information!
[Image courtesy Mitch Meyer]