Vintage photos of Jacqueline Onassis vacationing in Capri set the scene for a hairstyle that nails dual textures in a relaxed fashion. —KLF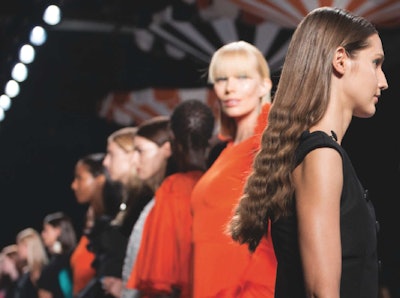 Is anyone as chic as Jacqueline Onassis? The style icon's ease and grace continue to inspire posthumously, as is the case backstage at Christian Siriano's spring show: "Christian found his inspiration in photos of Jackie on vacation in Capri," notes Sebastian Professional (@sebastianpro_official) hair lead Anthony Cole. The shots in question—several trips to Capri captured by paparazzo Settimio Garritano—follow Onassis through the island's tiny, life-packed streets, a series of stolen moments in which Jackie O. absorbs all of the beauty around her. In many of the images, she's wearing a scarf, which would suit Cole's runway creation to a T.
"We wanted a classic style that looks soft and effortless—just like Jackie O.," he says of the dual-texture design he's crafting. To begin, Cole runs a mixture of Sebastian Professional Mousse Forte and Dark Oil through damp hair to allow for "natural control." He then draws a middle part and employs directional blow-drying straight back from the face to help keep the silhouette tight. Several passes of a flat iron smooth the top half of the hair, which Cole then locks down with Shaper Fierce. Whipping out a triple-barrel wave curler and Shine Define, he imprints large crimps into the lengths, starting just slightly above the shoulder. The effect is dazzling; a sheet of gleaming crests drapes beautifully over each model's back. Until, that is, Cole runs his Sublimate Invisible Finishing Crème-coated fingers through the waves, breaking them up into a billowy blanket. "The wave effect is as though you wore a low ponytail with a braid, and then released it," he says, noting how very Capri that style treatment would be. But this hair design is not for the islands; it's for the catwalk, and Cole is very aware of this fact. "The straight with the waves: It's going to be a great contrast on that runway," he guarantees. 
[Images: Peter White/Getty Images]