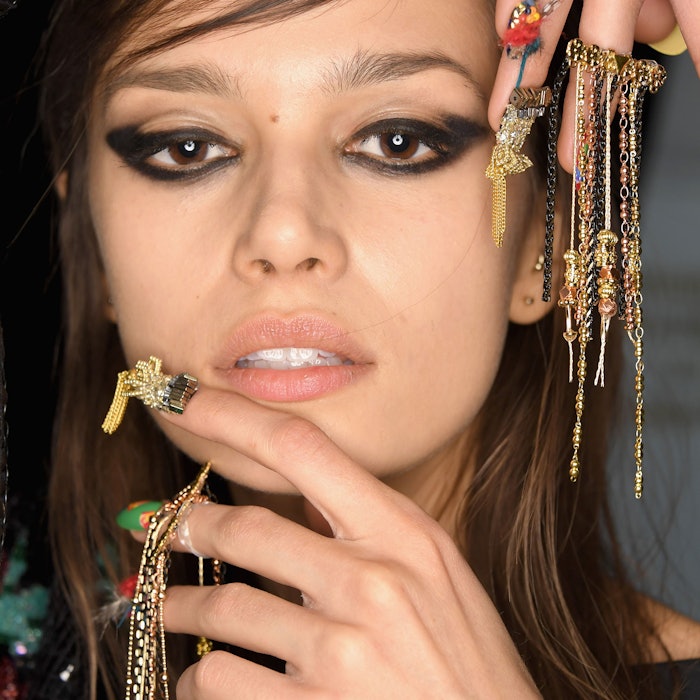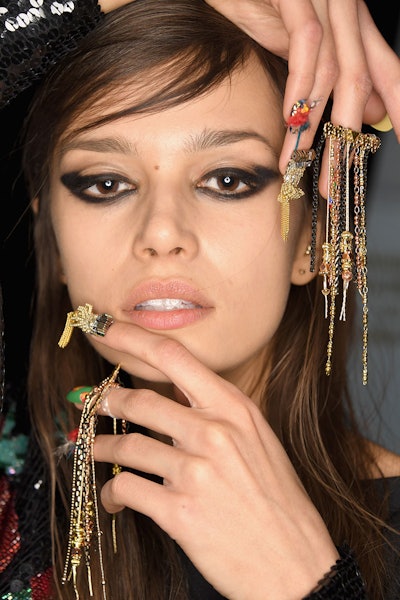 The Libertine girl has long been established as a little punk, extremely cool, completely devil-may-care. Not much has changed for NYFW Fall/Winter 2017, but some details are tweaked. For instance, an elongated jet-black smoky eye is revamped with a top coat of red lip balm. "It's a gorgeous, unapologetic black eye design with a twist," says Too Cool For School makeup lead Katie Jane Hughes. "I'm building the shape first with Charcoal Dinoplatz Highline Eyeliner, then going over it with black eye shadow, and finally dabbing the lip balm, Spilled Wine Dinoplatz Lip Balm, at the lash line. By placing the sheen next to the lash line it allows it to travel up the lid to the crease without getting too messy." She notes that the shape of the shadow is important: "Straight across is less feminine, more cool—and that's the Libertine girl," she says.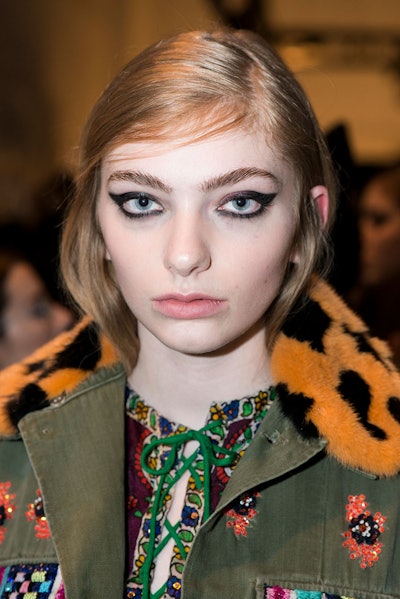 For Evo hair lead Kenna, the girl still retains that punk attitude she's always had, but now she's a little bit more refined. "She's more Upper East Side; she looks after herself," he says. That reads as hair made slightly rough by spritzing Evo Salty Dog on dry strands coupled with a deep side part and swooped bangs that he tucks behind the ear. To make the bang come straight down over the forehead and then swivel over, Kenna uses an Evo Spike Pin Bristle Brush to not smooth the hair, but rather to create the needed bend. "Just hit the hair with cold air from your blow dryer to set that bend," he says. As a final touch, he pulls a wig cap that he's cut a hole in over the girls' heads, securing it around the neck. "I'm not taking this off; it will be hidden under coats and collars," he assures. What's it for? "A tight, flat silhouette," he says. "It really helps!"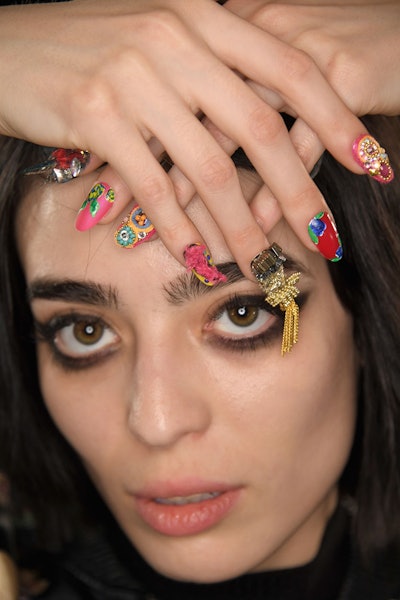 The nails, a centerpiece of the Libertine beauty, are truly works of art. CND co-founder Jan Arnold explains that everything from Romanian gypsies to shag carpet inspired the embroidered and Swarovski-bejeweled tips. "We decided to go full-blown texture and color. Gypsies throw things together, so we thought why not mix up the nail styles on each finger?" she asks. This notion plays out as tips brandishing rose prints in vivid hues mixed with nails sprouting Mohawks of thread to still others mimicking the handicraft of hand embroidery found in Uzbekistan. The over 300 hours of craftsmanship by the CND Design Lab team includes nail rings dripping in assorted beaded chains (all hand-strung, of course) and tips Arnold lovingly dubs "Bob Marley," which, like the singer, brandish flowing black tendrils (thread) that whip around when shaken. "They add movement and drama for every [Instagram] Boomerang people want to shoot on the runway!" Arnold thrills.
[Photos courtesy of Too Cool For School; CND]