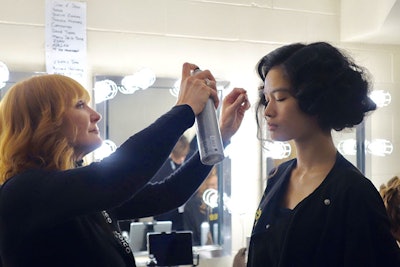 Drawing from the 1920s and the era's silver screen heroines (as well as Charlie Chaplin, who's granddaughter walked in the show) is easy for the technically gifted hair genius Vivienne Mackinder. Leading a team of Joico stylists at the Malan Breton Fall 2017 show, held at Madison Square Garden, she set about creating two throwback hairstyles: a frothy faux bob or a long drape of tendrils that start as a tight Marcel wave only to unravel into loose bends.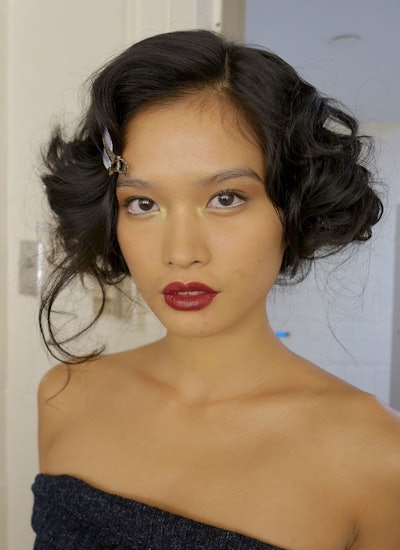 For the faux bob, Mackinder creates an anchor braid around the lower perimeter of the head and liberally sprays Joico Power Spray Fast-Dry Finishing Spray for her set, noting, "It keeps the hair dry; I don't want it to look too wet. It's also super-brushable, which is important." She "ripples" the top section with a barrel pattern technique and rakes Joico Hair Shake Liquid-to-Powder Texturizer through using her fingers to lend separation. Around the face, Mackinder curls the hair horizontally off of the side part, explaining, "This lends more of a loose wave at the front." To finish, she teases the ends of the waves, creating a fuzzy fabric that she can then "sew" into the anchor braid. "The ultimate end result is a nod to a '20s bob, but this is pretty, soft and relaxed—there's a degree to 'undoneness' that makes it modern," she says.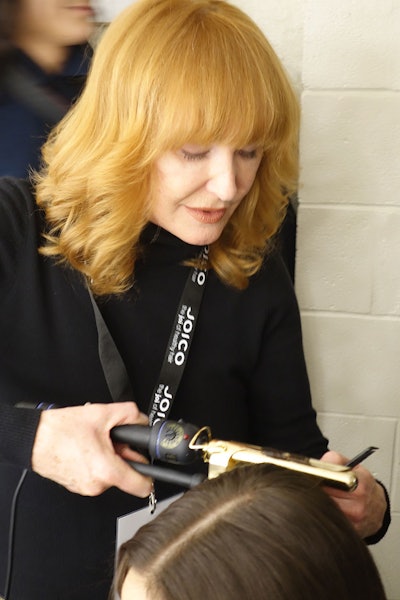 The lanky locks of the second look come courtesy of glued-in extensions, which Mackinder says, "We're not cutting. We want them to look spindly on the ends." Power Spray coats the top half of the head prior to Mackinder creating a Marcel wave from ear to ear. "For the rest of the hair, we want it loose through to the ends, which will be kept straight," she says. To achieve this loose texture, she wraps sections of the hair loosely around the barrel and then fluffs the cooled coils to rumpled perfection.
The '20s also play a part in the makeup; Bite Beauty lead Janice Daoud notes that Breton came upon his inspiration when he was having dinner with actress Nicole Kidman. "He started thinking of the silent films of the '20s and '30s," she says—perhaps his dinner date inspired him as well (Moulin Rouge, anyone?). The theme comes across in the lip: a heart-shaped burgundy punctuation surrounded by glowing skin. "We're using the Bite Beauty Amuse Bouche Lipstick in Licorice, and creating the lip shape with Bite Beauty Lip Liner in #044," she says. The secret to the pout: blocking-out the corners. "The idea is to make the lips look thinner at the corners, so we're using powder and concealer to achieve this," she explains. For the eyelids and cheeks, Daoud takes a more modern approach: She uses Bite Beauty bespoke blended lipsticks, Brown for the former, Peach for the latter, to cast creamy color on the face. 
[Images courtesy of Karie Frost]