At New York Fashion Week Men's F/W 2017, lead hairstylist, T. Cooper of Metro Look, and her team were sponsored by ECRU New York to create natural textured hair looks for the Carlos Campos show at IMG's Fashion Week partner venue, Skylight Clarkson Sq. Carlos Campos is a celebrated menswear designer from Honduras. In 2007, he launched his namesake brand, Carlos Campos New York. The brand's modern take on "classic American style… with a Latin twist" immediately earned him the respect and accolades of the US and Latin American fashion communities.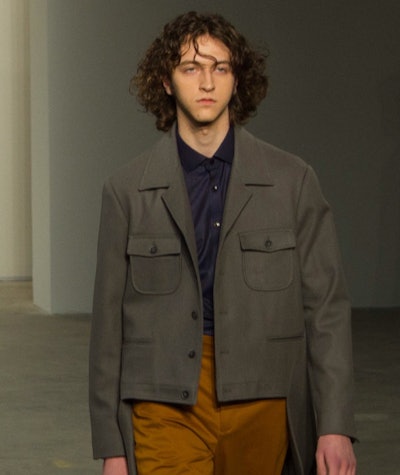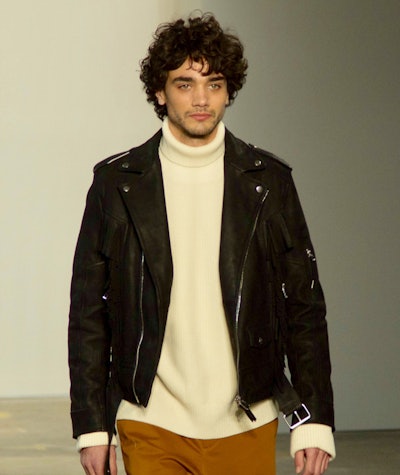 Cooper named the hairstyle "Caribbean Coils," and it was created by using Rejuvenating Moisture Mist and Defining Styling Potion from ECRU New York's Curl Perfect Collection, as well as ECRU New York's Sunlight Styling Spray.  
"This season Carlos told me that even though this is a fall/winter collection, he wanted it to reflect summer. There's a lot of color in the pieces, because this collection is all about bringing summer to you no matter where you are. I was inspired by how natural hair looks when you vacation in tropical places like the Caribbean, so I really wanted to bring out whatever natural texture the models had," Cooper explained.  
The stylists started by spraying the models' hair down with Rejuvenating Moisture Mist to bring out their wave pattern, then Defining Styling Potion was distributed to the hair to keep frizz to a minimum. The hair was then brushed and blow-dried with a diffuser on a low setting to allow curls, coils, and kinks to form uninterrupted. Finally, the hair was shaped with the stylists fingers, and sprayed into place with Sunlight Styling Spray.  
"We couldn't have asked for better products than those in ECRU's Curl Perfect collection to achieve the ultimate summer hair" said Cooper.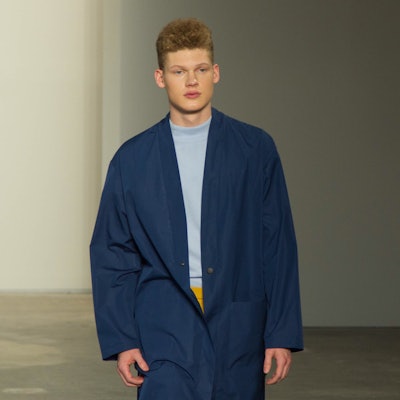 Meanwhile, key makeup artist Dana Arcidy of Metro Look created a simple look that showcased healthy skin. Originally a men's label, the line has included womenswear since 2008. Though his show took place during Men's Fashion Week, Campos included several female models in his show. Arcidy and the designer agreed that the models should have a cohesive look regardless of gender. They decided to let healthy skin be the focus, and the Metro Look team gave the female models identical makeup to the males, with the exception of added mascara and a muted pink lipstick.
The theme of Campos's collection was a hybrid of seasons. He took inspiration from South America, where it is currently summer, but created a collection that makes sense for winter and for New Yorkers. Similarly, the makeup not only had to make sense for any gender, but for any season. Anything overly dewy, overly matte, or overly bronzed wouldn't work. Arcidy and her team instead focused on making each model's skin look like their own skin, but better.
Arcidy was sponsored by skincare line Bioderma, a line she says that "models and makeup artists love." The line focuses on using proven ingredients that all skin types can tolerate. "During Fashion Week, even models with the most perfect skin have problems," says Arcidy. "It's not just from wearing makeup all day — it's from always taking it off with wipes that dry out the skin, and then layering a fragranced moisturizer on top of already stressed out skin. Bioderma's products are gentle and actually soothe irritation."
All models, even those with oily and acne prone skin, were given healthy amounts of moisturizer before foundation and concealer was applied. "Unfortunately, products for acne-prone people, especially if they are marketed for men, are usually some of the most poorly formulated products you can buy," Arcidy explained. "They're full of irritants that make skin worse! People just love that tingly, cooling feeling, but that feeling doesn't mean a product is working. It means it's causing damage." She added that many people with oily skin and breakouts use harsh toners with alcohol (which she is firmly against) and skip moisturizer, when they really need benzoyl peroxide and a soothing skincare routine including, you guessed it, moisturizer.
The Metro Look team used Bioderma's Sebium Hydra on their models who had breakouts and dehydrated skin. For models who needed more oil control, Sebium Mat Control provided moisture and shine control at the same time. The team moisturized the skin, concealed blemishes as needed, and combed the brows into place. They applied Bioderma's Restorative Lip Balm to the lips, and for the male models, that was it. For female models, lipstick was applied on top of the balm before it had a chance to fully  absorb, a favorite trick of Arcidy's for sheering out color. The models looked healthy and natural — a beautiful look for any season.