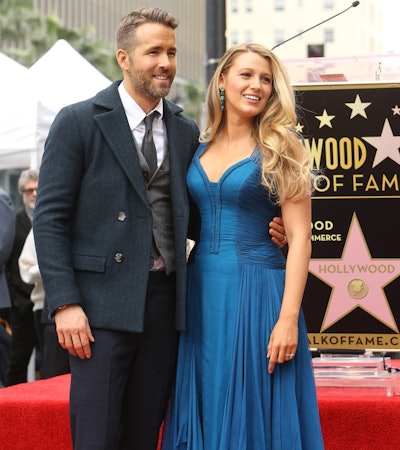 Blake Lively and husband Ryan Reynolds stepped out this week, kids in tow, for the unveiling of Reynolds' star on the Hollywood Walk of Fame. The family looked adorable, but Lively especially stunned in a pacific blue dress and long, cascading curls created by celebrity stylist Rod Ortega.
"This look is meant to be soft and smooth, not too contrived," said Ortega. "It's a beautiful look for New Year's Eve — more sophisticated and dressy. This look is so versatile, it can be swept into a voluminous pony, a twist, or chignon easily."
Lively's voluminous waves are the perfect look for the holidays. Help your client go glam this season with Ortega's how-to, below!
Get the Look:
Prep: With a round brush, blow-dry freshly washed hair with T3 Featherweight Luxe 2i Dryer
Tease: Once hair is dried, take 1-inch sections and tease at the root.
Apply Rollers: Part hair to the side, separate into small sections and brush hair up, holding ends of hair straight up. Using T3's Volumizing Hot Rollers Luxe place at the end and roll down in the direction of the part. Expert tip: Roll hair down, wrapping ends first, concentrating the heat there so ends get a bend (note: you don't want limp ends). "I used the one-inch rollers on Blake to create waves," says Ortega. "The size depends on how much body and wave you want. If you prefer more body and less wave, use larger sizes like the 1 1/2- or 1 3/4-inch rollers. If you want more of a wave, use the smaller rollers."
Set the hair: Allow hair to cool with the rollers in for anywhere from 10 to 25 minutes depending on hair type.
Remove Rollers: After removing rollers, brush through hair and back tease for extra volume.
Finishing: Spray with L'Oréal Elnett and brush — hair will have elasticity and memory with the rollers, so don't be afraid to brush through.