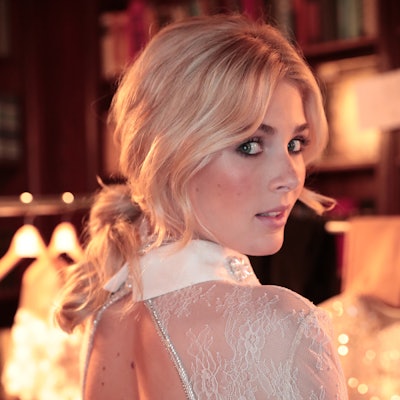 For the Idan Cohen Fall 2017 Bridal Collection, Ammon Carver, L'ANZA Global Creative Director, created fresh classic looks with elegant, cutting-edge appeal.
"This season, trends in bridal hair continue to shift from structured styles to more natural looks," explained Carver. "There's nothing more timeless than the classic ponytail. However, for Idan Cohen we created looks with updated touches that included casual center parts, a deconstructed texture on the pony with a few strands woven to hold it tightly at the nape, then fullness teased-in mid-head.
"We draped the hair over the ears, loosened it with a rat-tail comb, and then allowed a few strands to flow freely. There were waved accents around the face for some looks, while others were pulled smoother. Even though we played with texture, healthy looking shine was a focal point. New L'ANZA Color Illuminator Hair Brightening Spray played an essential role in creating the look."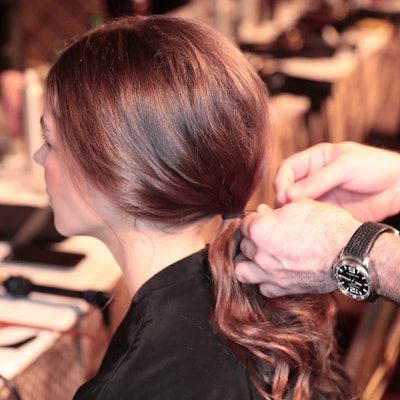 The result?  Beautiful, timeless yet masterfully creative styles, with just the right touch of runway-ready detail to make them look fresh and new.
Get the Look:
Spray L'ANZA Healing Style Dry Texture Spray on clean, dry hair for a bit of grip and a touch of hold.
Create a center part and back-comb three sections (sides and back) for fullness.
Twist and curl side sections toward the back with a 1-inch or 2-inch curling iron (depending upon texture).
Use a large toothed comb to drape sides of hair low over the ears, and create a nice low ponytail.
Wrap elastic cord 3 times around the hair. Before you tie it off, loosen and soften the center back hair above ponytail.
Loosen the side hair to fall freely over the ears so that it does not feel "headbandy" and so you can see through it. This will make the look soft and wearable without heaviness.
Wrap a few strands of hair to cover the elastic, and weave them around to hold tight. Use two hairpins for this. Place the first backwards, under and through the pony. Then loop a second pin inside the other, and use it as a crochet-style hook to pull the wrapped hair out. Then use the newly-freed hair to tighten the hair around itself. This technique will allow you to pull hair even more tightly around the pony. The result will look more polished and stay more reliably than simply wrapping hair around.
Go through the finished look with mists of L'ANZA Keratin Healing Oil Lustrous Finishing Spray, continuing to lift, loosen and separate hair around the head with a rat tail comb as you work.
Gently comb through the ponytail, release and shape the texture, then further loosen it for movement.
Finish with a light mist of L'ANZA Color Illuminator Hair Brightening Spray for shine and to boost the vibrance, depth, and intensity of the hair color.